Greetings all Chicagoland Tai Chi and Qigong practitioners,
After two years of construction, the northeast section of Grant Park, now named Maggie Daley Park, opened yesterday, and it's amazing!  Plenty of play areas for kids, an impressive skating ribbon, and many varied spaces to enjoy outdoors in the City.
So what better way to start a mild December morning than Tai Chi in the new park!
Most of the grass areas are still roped off, but I found this fine spot near the "Snake Bridge."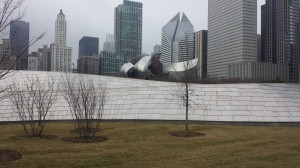 With this winter-hued view toward Lake Michigan. . .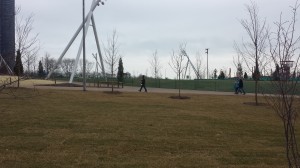 A great way to start the day – Tai Chi with fresh air, earth under the feet, sky above, and plenty of passers by exploring an awesome new public space.  Very nice!  I encourage you to check it out our new park.
Improve your Winter with Tai Chi and Qigong!  Winter Session starts January 5, 2105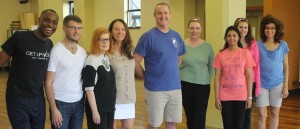 We are wrapping up our Fall Session, with students making impressive progress and improving their lives with the many health benefits of Tai Chi and Qigong.  Interested in joining our growing community?  Our 12-week winter session begins January 5, 2015.  For more information, go to www.chicagotaichi.org
Hope to see you in class in 2015!
 
Chris Cinnamon
Enso Martial Arts
Tai Chi and Qigong Instructor
Energy Arts Certified
visit our website www.chicagotaichi.org