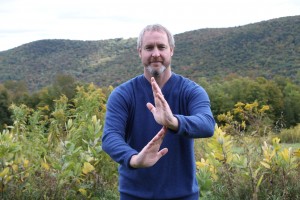 Through this blog, most of you know me as a Tai Chi and Qigong practitioner and instructor.  I also practice traditional Karate, the "hard" martial art that years ago led me to begin my study of the "soft" martial art of Tai Chi.
In my "hard" art, I recently tested for Nidan (2nd degree black belt), and my Sensei (teacher(s)) asked that each candidate submit an essay.  Here is mine.  Given the influence of Tai Chi on my reflections, I thought you might find at least some of it useful.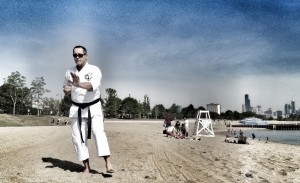 Reflections on testing for Nidan
In reflecting on the upcoming Nidan test, my thoughts gather around two themes:
I'll explain briefly.
Feeling grateful.
I have trained at Enso consistently for nearly 8 years.  The practice of karate, the dojo, my sensei, training partners and friends – all have been woven deeply into the fabric of my life.  For 6 of those years, I trained regularly with my son Luis, and karate became an important part of our relationship.  (I hope karate draws Luis back to the dojo soon!)
During thousands of hours at Enso, I have learned lots of new skills and concepts, developing my body and mind in new ways.  I have met highly skilled senior practitioners like Sensei Holley and Sensei Abernethy, people who have been important influences on how I think about and practice karate.
I have soaked my gi many hundreds of times.  I have sustained injury to body and ego.  I have felt satisfaction, disappointment, and anger, learning, to a degree, to temper those emotions.  In this and other ways, the growth I have experienced through karate training has been deep.
And I have enjoyed myself immensely.  What a fine way to spend thousands of hours!
All this leads to a deep sense of gratitude.  For masters like Anko Itosu and Gichin Funakoski who devoted their lives to organizing karate so it could be passed down to future generations (like us!).  To Sensei Jay, Denise, and Saul, for making Enso the welcoming, open-minded, hard-training dojo it has become.  To Sensei Holley, for taking Enso under his wing and sharing his perspective, skills, and time with us.  And to my Enso training partners and friends for showing up and soaking your gis with me.
In my experience, out of the range of emotions, gratitude is one to savor.  And when I think of karate at Enso, that's what I feel.  Thanks!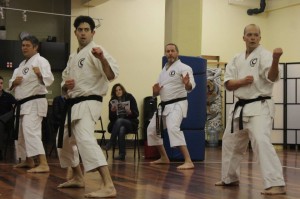 Karate and the aging body.
I turn 54 next month.  There are only a few of us in our sixth decade still practicing karate at Enso.  That is not surprising.  Karate tends to be hard on parts of the body that deteriorate with age and injury – knees, hips, backs, shoulders.  So, if you, like me, have an aging body, with accumulated wear, tear, and injuries, and want to continue to practice karate without accelerating that deterioration, what do you do?
My karate training and study have not led to clear answer.  But, on this question, my Tai Chi training has helped.
While I practice Tai Chi for a range of reasons specific to that art, it has also become an important complement to karate practice.  For example, the internal focus and awareness that develops with Tai Chi practice has helped me adjust my karate to reduce joint pressures and strain.  Tai Chi's sophisticated, low impact movement patterns have helped heal old injuries, improving range of motion and flexibility.  Tai Chi's relaxation techniques have improved my hand speed.  Imagine that – moving better as you age!

On this theme, my main Tai Chi teacher, Master Bruce Frantzis, a karate champion as a young man, writes in Tai Chi, Health for Life:
It is extremely common for top-level external martial arts masters in China, and even in Japan, to take up tai chi after they pass the age of fifty. . . [T]hese martial artists recognize that doing a tai chi form is a practical way to extend their physical skills many years past the point at which these abilities would naturally decline in their own martial art.  This is because tai chi can make them healthier, heal old injuries from decades of training, make the body less brittle and more flexible, and maintain the speed of practitioners' movements.
Each of us does best charting our martial path.  But for the karate practitioner with both an aging body and a desire to keep training, I would encourage them to try Tai Chi.
This also ties back to my first theme.  Sensei Jay and Denise Nacu, the founders of Enso, have remained solidly supportive of my interest in Tai Chi, including my desire to teach.  Enso's Tai Chi program is now in its third year.  For that too, I, with my aging body, am deeply grateful.  Thanks again!
That said, let's test!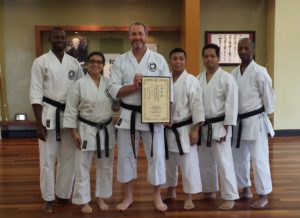 With that complete, time for more Tai Chi and Qigong!
Chris Cinnamon
Enso Martial Arts
Tai Chi and Qigong Instructor
Energy Arts Certified