For Enso's Spring Tai Chi Tune-up, I was delighted to welcome Arlene Faulk back to Enso.  Here's a short report –
Arlene's teaching
Arlene infuses her teaching with both a love of Tai Chi and first hand knowledge of its healing power, having used Tai Chi to regain mobility after a serious illness. Her instruction embodies two qualities are the core of Tai Chi – softness and relaxation. As Tai Chi practitioners know, from softness and relaxation come the power of Tai Chi, and that is readily apparent in Arlene's teaching and movement.
As she warmed-up the workshop with an ancient Qigong set, I observed students faces relax, shoulders soften, and posture improve, as they settled into their bodies.  There was plenty of Qi to be found in the relatively simple Qigong moves Arlene led, so the workshop soon became quite energized.
It short, for Tai Chi instruction, Arlene is the real deal.  To learn more about what she teaches, go to Faulk Tai Chi.  Her blog is outstanding, so be sure to sign up for that too.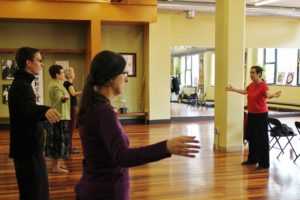 Arlene Faulk at Enso's Spring Tai Chi Tune-up.
Rooting 101

After a super Qigong warm-up and an excellent lesson in Tai Chi Walking, Arlene passed the lead to me for a Tai Chi Rooting lesson. We started with that wonderful aphorism from the Tai Chi Classics:
"Tai Chi is rooted in the feet, powered by the legs, controlled by the waist, and expressed in the hands."
From that foundation, I guided students through "Rooting 101" as taught by my main teacher, Bruce Frantzis.  This involves "building" your root through a series of specific biomechanical alignments. After getting the alignments organized to a degree (no small feat in itself), we layered in energetic components, sinking Qi into the weighted leg, with a corresponding rise up the spine to the crown point.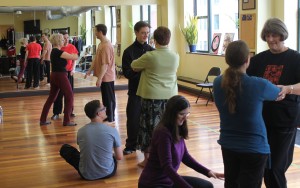 Rooting practice at Enso.
Attendees delved into the material with enthusiasm.  I sampled several roots toward the end of the exercises, and people were clearly connected and rooting incoming force into the floor.  Very nice!
"Comparative Tai Chi Studies"
We finished the workshop with a comparison of Yang and Wu styles through two postures – Brush Knee and Single Whip.
Playing with the two styles' Brush Knees, Wu style students received an introduction to powering the hand with the Yang Style Twist Step, while Yang style students explored powering the hand with the Wu Style Bend and Tuck.
With Single Whip, we found how very similar the posture is between the styles, with the Yang style Single Whip a little bigger, with a little more stretch in the limbs, and the Wu style Single Whip, slight more compact, with the stretch a little more internal.  But lots more similarities than differences.

In closing, much gratitude to Arlene and her students for sharing their time with us at Enso. We all clearly "tuned-up" our Tai Chi for Spring!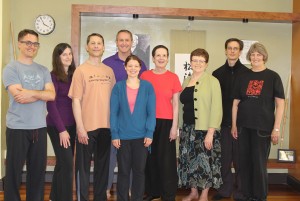 Feeling good after a Spring Tai Chi Tune-up at Enso!
Chris Cinnamon
Enso Martial Arts
Tai Chi and Qigong Instructor
Energy Arts Certified
visit our website www.chicagotaichi.org