Enso Tai Chi ventures north.
I trekked north from the Loop last Sunday to present the inaugural Tai Chi workshop at Tribe, 1819 W. Belmont.  Tribe, a new venture led by Cari Rogers and Ellen Letten, combines bodywork treatment rooms and a serene training space for classes.  Enso Tai Chi and Qigong student Jeanne Steen helped make the connection between Enso and Tribe.  Jeanne teaches Wellness Qigong (from Dr. Aihan Kuhn) at Tribe and offers Rekki treatments.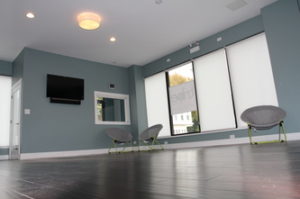 Exploring Tai Chi fundamentals.
A delightful group assembled for a two hour Intro to Tai Chi Workshop.  I organized the material to explore three principles of Tai Chi movement:
Tai Chi movements are predominantly circular

Tai Chi movements are connected, whole body movements

Tai Chi movements are relaxed, and can promote deeper relaxation
I also introduced basic alignments, both seated and standing, helping people get a sense of creating a stable, balanced, internal structure, a necessary foundation of the three Tai Chi movement principles we explored.
Tai Chi Circling Hands.
An excellent vehicle for exploring principles of Tai Chi movement is Tai Chi Circling Hands, the Qigong set developed by my main Tai Chi teacher, Bruce Frantzis.  Circling Hands helps students begin to get a sense of, and benefit from, Tai Chi-like movements, without the more sophisticated choreography of a Tai Chi form.
We used the Vertical Circle 1 of Circling Hands to explore circularity, connectedness, and relaxation.  Then we added the weight shift of Vertical Circle 2 to gain further connection between the legs and arms.  We then added the hip rotation of the Vertical Circle 3, adding more circularity and more connection between the torso, hips, and legs.  Soon people were making circles, shifting weight, and turning their hips with increasing connection and smoothness.  Sounds a lot like Tai Chi!
I then introduced the first few moves the Wu Style Short Form, helping people get a sense of how making circles, shifting weight, and turning the hips manifest themselves in more complex movements.
Watching Tai Chi movement do what it does.
The group enthusiastically engaged the material.  I watched their movements change over the two hours.  Their circles became more circular, their bodies became more connected, and they relaxed as the movement patterns helped release tension and stress.  At the level of physical movement, that's what Tai Chi does.  And that's just the start!
Workshop practice video.
As a resource for workshop participants and to encourage them to practice what they learned, I have prepared a short practice video.   It runs 12 minutes and covers Circling Hands 1 – 3, and the first four moves of the Wu Style Short form.  Check it out by clicking below.
Hope you find it useful.  And if you want to learn this material in more depth and much more, join a class at Enso Tai Chi!  Questions about getting started?  Just email me at chris@chicagotaichi.org.

Thanks again to Tribe for hosting the workshop.  I look forward our next one!
To learn more about Tribe, click Tribe Healing Arts.
Keep practicing!
Chris Cinnamon
Enso Martial Arts
Tai Chi and Qigong Instructor
Energy Arts Certified