Time to take our practice outside!  With warm sunshine melting the memories of our long winter, Chicago Tai Chi and Qigong practitioners can now comfortably find outdoor opportunities for practice.  Outdoor practice can provide fresh air for the lungs, earth beneath the feet, and pleasant scenery for the eyes, each of which can make practice even more enjoyable.  Beyond enjoyment, however, outdoor practice can provide the opportunity to more directly perceive and interact with the energy of your surroundings.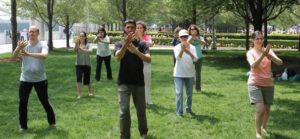 Outdoor Practice Tips from Bill Ryan.  In his email "Chi Tips," Energy Arts Senior Instructor Bill Ryan recently shared the following about outdoor practice:
"Outdoor practice can especially enhance your exchange of energy with the environment. In clear and clean natural settings you have direct access to the energy of the earth, the heavens, and other natural energy sources such as oceans, large trees, forests, valleys, mountains, lakes, and streams.
"Outdoor settings and people are not created equal energetically, so choose where you practice wisely. As a general principle, choose places where you feel very comfortable. . ., where you would be just as happy taking a nap or eating a meal as practicing. Different people will be comfortable in different places.
"Avoid places where you are exposed to what traditionally in Chinese medicine are called "external pernicious influences" such as heat, cold, damp, and wind. . . .Also avoid places where pollution is present in the air, water, or ground. Try not to practice on concrete or asphalt surfaces. Both insulate you from the energy of the earth; concrete also drains energy out of your body
"Seek and return to places that energize you. Test out a place by exercising there and notice how you feel both as you practice and during the 24 hours after you finish."
Excellent advice from an experienced teacher and practitioner.  If you would like to sign up for Bill Ryan's email Chi Tips, click here.
Outdoor practice in the Wild West.  I recently joined my daughter Sophia for a road trip from San Francisco to Grand Junction, CO.  It included two days of camping and hiking in Capitol Reef, National Park, a spectacular park in Southern UT.  While there, I practiced Tai Chi in some spectacular settings, include atop cliffs formed eons ago by sharp upward thrusts in the earth's crust.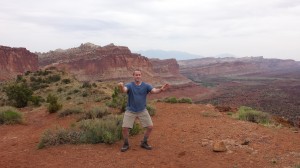 At least for me, the sense of the earth's energy was distinctly different in this setting, powerful with a clear sense of rising into my feet and legs.  And the views were similarly powerful!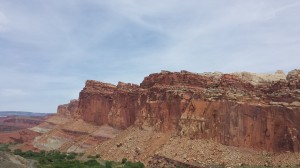 Back to Chicago for more outdoor Tai Chi.  While Chicago does not offer cliff top practice spots, our parks and lakefront feature many excellent locations for outdoor practice.  I have two favorites in Grant Park, and have on occasion dropped into the Sculpture Garden next the Art Institute for a little practice beneath the beautiful trees there.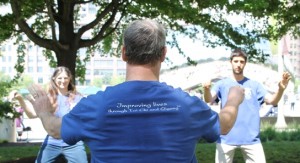 I encourage you to take your practice outside.  As Bill Ryan suggests, find a place you feel comfortable.  Practice your form or set and feel what you feel.  To the extent you perceive the energy of your surroundings, just note it and enjoy it.
Hope to see you outside soon!
Chris Cinnamon
Enso Martial Arts
Tai Chi and Qigong Instructor
Energy Arts Certified