Dragon and Tiger Qigong – in the press and in Chicago!  Dragon and Tiger Qigong is one of the Qigong sets I teach at Enso Tai Chi.  D&T provides a great foundation for a beginning Qigong practice and offers plenty of depth and subtlety for the experienced practitioner.  Plus, and for many most importantly, D&T is a powerful healing and health promoting practice.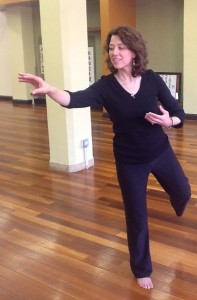 Bruce Frantzis brought Dragon and Tiger Qigong to the US from China.  Here is what Bruce says about D&T:
"While studying for 10 years in China and as a Chinese qigong tui na practitioner, I saw hundreds of different qigong sets. However, none had the simplicity and effectiveness of Dragon and Tiger Medical Qigong.

"While I was in China I looked for a qigong set that would have three qualities:
Clear out energy blockages and energetically cleanse the entire body.
Be easy enough to be practiced and learned by virtually anyone, regardless of their age or current state of health.
Contain as few movements as possible but have at least 80% of the benefits of longer qigong sets

"Dragon and Tiger Medical Qigong was the answer!
"It is my personal opinion that Dragon and Tiger Qigong is one of the most beneficial qigong sets ever developed in China.  It is fun to practice and many people begin to FEEL energy or chi moving in their body."
Bruce Frantzis
Dragon and Tiger in the Press.  Dragon and Tiger Qigong was featured in last month's issue of Spirituality and Health Magazine.  The article, "For Chronic Illness, Try Qigong" by Jennifer Haupt, reports this about D&T:
Of the hundreds of styles of qigong, Dragon and Tiger, a 1,500-year-old form practiced by Shaolin monks, is often called upon in a medical context, say practitioners. The form can be a good option for older people, because it's relatively easy to learn and practice. While other styles may incorporate between 30 and 100 distinct movements, the Dragon and Tiger style uses just seven, while still providing around 80 percent of the benefit of more challenging practices, experts say.
Check out the entire article here.
The article also include a link to a short video with Energy Arts Senior Instructor Bill Ryan demonstrating a short set of D&T.  Looks like it was shot on Maui.  Nice spot for Qigong!  In preparing for instructor certification, I trained with Bill at his studio in Northhampton and online.  He is an extremely talented teacher, a very high level practitioner, and a great ambassador for D&T.  Here's the video:
Dragon and Tiger Medical Qigong from Spirituality & Health on Vimeo.
Thanks to D&T student and practitioner Jeanne Steen for the heads up on this article!  Jeanne recently began teaching a Wellness Qigong set at Tribe Healing Arts, a new studio on Belmont.  For more information on Jeanne's class, click here.
Dragon and Tiger in Chicago.Interested in learning D&T?  I teach the set in private and group sessions.  If you want to take more control over your health, if you want to explore what this "energy" work is all about, if you want to increase flexibility, coordination and balance in a low impact way, Dragon and Tiger Qigong could be for you.
For more information, please email me at chris@chicagotaichi.org.
For those interested in learning Dragon & Tiger online, Bill Ryan and Energy Arts have produced an outstanding online D&T Program.  For more information, click Energy Arts Dragon and Tiger Online Program.
All the best,