Current Enso Tai Chi Students, former students, and friends,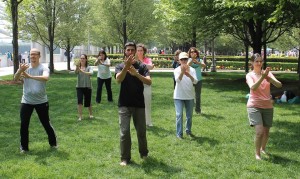 Looks like great weather for Tai Chi this Sunday!  Please join us for our third outdoor session of the year, Sunday, June 30 at 10 am in Millennium Park.  We will meet at a table near the Bean, then find a spot under the trees to practice.
In case of inclement weather, we will meet at Enso, 412 S. Wells, 7th Floor.
If you plan on coming or are thinking about coming, please email me at chris@chicagotaichi.org.  I will send a confirming email by 9 am on Sunday after checking weather.
See you in the Park!
Chris Cinnamon
Enso Martial Arts
Tai Chi and Qigong Instructor
Energy Arts Certified
visit our website www.chicagotaichi.org