Enso Tai Chi – Spring Update
Spring Session wrap up.
We just ended an excellent Spring Session, with students Improving their Lives through Tai Chi and Qigong.  Click Testimonials to see what our students have to say.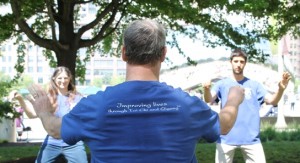 Classes resume Monday, August 10.
Summer Break for Instructor Training.
During the break, I'll be attending two Instructor Training courses led by Bruce Frantzis and his senior instructors on the island of Ibiza.
Marriage of Heaven and Earth Qigong.  The first session involves three weeks of "Marriage of Heaven and Earth."  MHE is a powerful set focusing on pulsing joints and body cavities, lengthening tissue, and significantly upgrading the flow of bodily fluids and qi.  Deceptively simple set from the outside, two moves only, MHE packs an incredible amount of internal content into the moves.
Tai Chi Push Hands.  The second session involves a week of Tai Chi push hands training, building on the Push Hands training Bruce led in Brookline, Mass last year.  For those not familiar, Tai Chi Push Hands is a two person practice building upon what we learn in in our solo form, extending that material into interaction with another person.  Our Continuing Practice students have enjoyed their introduction to Push Hands, and we plan to continue developing that component of our program.

Join us in Millennium Park on the Great Lawn in August!
Enso Tai Chi is featured in the City of Chicago's Millennium Park Summer Workout Series this August.  Join us Saturday, August 17, 24, 31, and September 7, at 7 am on the Great Lawn.  Free Tai Chi in the Park!  Thanks to the City and the Chicago Park District.  Hope to see you there!
See you in August!
Chris Cinnamon
Enso Tai Chi and Qigong Instructor