Spring Tai Chi Workshop – Putting more "Chi" in our Tai Chi!
Arlene Faulk of Faulk Tai Chi joined me to team teach Enso's inaugural Spring Tai Workshop.  Eighteen Chicagoland Tai Chi and Qigong practitioners joined us for a fine afternoon of learning and practice.  Here's a quick recap –
Rooting, Lifting, Turning, Walking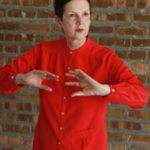 Arlene kicked off the workshop with an energizing warm-up focused on breathing, centering, "getting our minds out of heads and into our bodies", and connecting to energy within us and surrounding us.   She then led the group through a series of exercises focused Tai Chi fundamentals – establishing alignments, connecting to the ground, "plucking" up the spine and neck, shifting weight, turning the hips, and stepping.  Throughout, Arlene emphasized a core principal from the Tai Chi Classics:
Tai Chi is rooted in the feet,
Bursts through the legs,
Is commanded by the waist,
and flowers in the hands.
Through the hour of Arlene's teaching, I could see students' movements become increasingly rooted,  stable, smooth, and connected.  Very nice!
Dragon and Tiger Qigong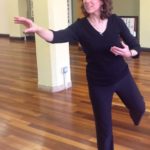 After a break, I introduced components of Dragon and Tiger Qigong, the "entry level" Qigong set in the Energy Arts system.  The set's movements are organized around passing the hands over key groups of acupuncture meridians, stimulating Qi flow, clearing stagnant Qi, and improving the amount and balance of Qi flow.  After beginning with the crowd-pleasing warm-up of "playing with your Qi ball," I introduced Moves 1, 3 and 4 of the set.  The group did a fine job in tracing the correct pathways and beginning to connect the movements.  Some of the more experienced practitioners were clearly beginning to establish a connection between their palms and parts of the targeted pathways.  Most noted how the D&T practice energized the Tai Chi we practiced later in the workshop.  More "Chi" in their Tai Chi!

On to Tai Chi!
With refreshed fundamentals and a healthy dose of Qigong, it was time for Tai Chi.  Arlene led the group through the first moves of the Chen Man-ch'ing Yang-style Short Form.  I then introduced first four moves the Wu-Style Short Form, showing students how to use those moves to create a 16-move "mini-form."  All enjoyed practicing their familiar style then mixing it up with moves from another Tai Chi style, noting, of course, many more similarities than differences.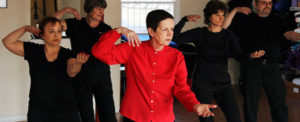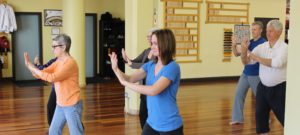 By all reports, attendees left the workshop energized, with intriguing new material to work into their practices.  Looking forward to the next time!
Chris Cinnamon
Enso Martial Arts
Tai Chi Instructor
Is Tai Chi at the Tipping Point?  Check out this blog post – Tai Chi at the Tipping Point?  See what Master Bruce Frantzis says.