A quick recap of our Fall Session and a look-ahead to our Winter Session.
Another Fine Fall of Tai Chi and Qigong at Enso
We wrapped the 2013 Fall Session with a bonus class at 12:00 on New Year's Eve (noon, not midnight!).   That concluded a total of 70 Tai Chi class hours over 12 weeks, with new and continuing students making impressive progress on their fundamentals, forms, and sets.  Highlights included:
New students getting a solid introduction to Circling Hands Qigong and the first 1/3 of the Wu Short Form, with all new students making noteworthy progress in circularity, connection, and flow.

Continuing students progressing through six of the seven moves of Dragon and Tiger Qigong, with all reporting physical and emotional benefits from practicing the set.

Continuing students working on sinking, rooting, and developing a stronger connection with the ground.  Balance and stability continued to improve.

Some basic push hands, putting the solo form into action with a partner.

An outstanding Fall Workshop with Dan Kleiman, Program Director, Brookline Tai Chi.  This was Dan's second visit to Enso.

A rich Qigong training experience for me at an Autumn Weekend Retreat in the Berkshires led by Energy Arts Senior Instructor Bill Ryan.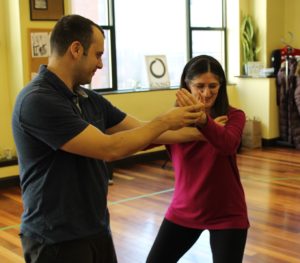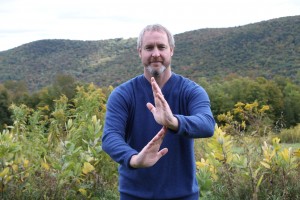 Overall, a fine Fall Session of Tai Chi and Qigong at Enso.
2014 Winter Session begins
Our 12 week Winter Session has just begun, with lots planned to keep us moving and energized through a Chicago winter.
Several new students are joining our classes.  Could 2014 be their year of Tai Chi?  I hope so!  They will get a solid introduction to Tai Chi fundamentals including:
Correct biomechanical alignments

Breathing techniques

Relaxation techniques

Circling Hands Qigong –  a powerful, energizing movement set incorporating core Tai Chi principles

The first moves of the Wu Short Form – introducing the more sophisticated movements patterns of Tai Chi
Continuing students will:
continue their exploration of Dragon & Tiger Qigong, helping keep their energy flowing more smoothly during the cold months

continue to work on rooting, especially important with slippery sidewalks underfoot

continue to explore how Tai Chi's internal practices, or neigong, helps refine their forms and deepen the impact of moves and postures.
We have plenty of space for new students.  If you are interested in improving your life with Tai Chi, please email me at chris@chicagotaichi.org, and let's get you started!
For our former students, now is a great time to come back to Tai Chi.  Hope to see you in class!
February 9 Workshop at Tribe Healing Arts, 1819 W. Belmont Ave
I will be leading an Introduction to Tai Chi workshop in February at Tribe Healing Arts, a cool new studio and wellness center at 1819 W. Belmont.  I am working with Cari Rogers at Tribe to complete the arrangements, and we have set the date/time at Sunday, February 9, 1 – 3 pm.  The training space is very welcoming; it will be a fine spot for Tai Chi!
The workshop will provide an opportunity to learn more about what Tai Chi is (and is not), some fundamental Tai Chi principals, and, of course, some Tai Chi moves!    More information and registration link to follow soon.  We are also evaluating the possibility of offering a regular Tai Chi class at Tribe.
Thanks to Tai Chi and Qigong student Jeanne Steen for the connection to Tribe.  Jeanne teaches Wellness Qigong there and offers Rekki and Accupressure therapy.  For more information, click here.
Hoping that your life improves in 2014.  Tai Chi and Qigong can help with that!
Chris Cinnamon
Enso Martial Arts
Tai Chi and Qigong Instructor
Energy Arts Certified