Fall Session Update – New Introduction to Tai Chi class, Dan Kleiman workshop, and more!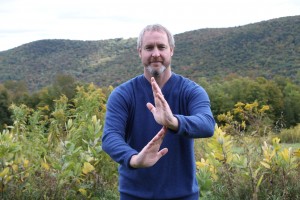 Autumn Greetings from Enso Tai Chi!
Thanks for all your interest and support!  Our students continue to make impressive progress in their Tai Chi and Qigong practices, and we look forward to welcoming new students this Fall.
Our Fall Session begins Monday, October 7.  Here's a quick update on Fall happenings at Enso Tai Chi.
New class added – Introduction to Tai Chi
We are adding a new 6 week Introduction to Tai Chi Class and look forward to welcoming several new students.
The class will cover Tai Chi fundamentals, including:
Correct biomechanical alignments
Breathing techniques
Relaxation techniques
Tai Chi Circling Hands –  a powerful, energizing movement set incorporating core Tai Chi principles
Tai Chi mini-form – introducing the more sophisticated movements patterns of Tai Chi
The course fee for this special 6 week Introduction to Tai Chi package is just $125.  There is an additional discount for Millennium Park Summer Workout voucher holders.
The class meets Monday and Wednesday noon to 1 pm.  Students will also have access to online practice videos and, with instructor permission, will be able to attend the other Beginning Tai Chi classes.
To sign up, just email me your name and contact information at chris@chicagotaichi.org,  then join us at Enso starting on October 7!
New Class Schedule
Monday and Wednesday
7 – 8 am Continuing Tai Chi Practice
11 – noon Beginning Tai Chi
Noon – 1 pm Introduction to Tai Chi
Thursday
5:30 – 6:30 pm Beginning Tai Chi
Fall Workshop with Dan Kleiman
Mark your calendars for Saturday, November 9.  Dan Kleiman, program director at Boston's Brookline Tai Chi, returns to Enso Tai Chi to lead his second Fall Workshop.  Dan is a seasoned, engaging, and always entertaining Tai Chi and Qigong instructor, and is sure to teach core material to help advance your practice.  More details to follow soon.
5 Keys Group Practices
Energy Arts reports that eight Chicago folks have joined the 10 week online "5 Keys to Taoist Arts" program with Paul Cavel.  If you are participating in the program and would like to join live group practice sessions, please email me at chris@chicagotaichi.org
I plan to coordinate some group practice sessions and will email those that are interested to schedule times and places.  There will be no charge for these sessions, just an opportunity to interact and practice with others in the program.
Senior Instructor Bill Ryan on Fall and Winter practice themes
Last weekend, I attended an wonderful Qigong retreat in Western Massachusetts led by Energy Arts Senior Instructor Bill Ryan.  Bill was gracious enough to make time for an interview, sharing his insights into seasonal themes to help guide our Tai Chi and Qigong practices during Fall and Winter.  Outstanding guidance from a highly experienced teacher.
I know you will enjoy hearing from Bill.  Stay tuned, I will have that interview posted shortly.
Enjoy our fine Fall weather, and keep practicing!
Chris Cinnamon
Enso Martial Arts
Tai Chi and Qigong Instructor
Energy Arts Certified