From Chicago to Germany for Qigong Training with Bruce Frantzis
I recently returned from Neu Ulm, Germany, where I joined 60+ practitioners and instructors from more than a dozen countries for a 5-day seminar with Bruce Frantzis. The training focused on the ancient Taoist Qigong set known as Gods Playing in the Clouds ("GPC"). The training was deep, intense at times, and very worthwhile.  A brief report follows.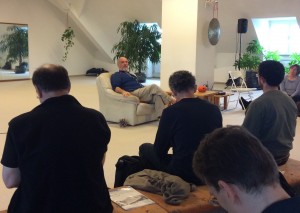 The set.
GPC involves six physical movements, mostly arm and shoulder rotations in multiple planes of motion, combined with pelvis and leg movements varying from squats to bends to joint pulses. At the level of physical movement, the set can be very beneficial for common problem areas including shoulders, back, neck, and hips.  At the same time, GPC works deeply into the internal organs, improving flexibility, circulation, and function in vital tissues.
But physical movements are about 10% of the action in GPC. The main work of the set involves its internal practices or "neigong." GPC incorporates neigong elements developed separately in other sets in the Energy Arts system. This includes the lengthening, wrapping, and pulsing from Marriage of Heaven and Earth Qigong; the right, left, and central channel work from Spiraling Energy Body Qigong; and the spinal work of Bend the Bow Qigong. Under Bruce's instruction, these separate components were combined, deepened, and integrated into the movements of GPC.
Interested in Qigong in Chicago?  Check out our Qigong Workshop on November 23. For more information and to sign up, click here. 
The setting – Tai Chi Schule, Neu Ulm.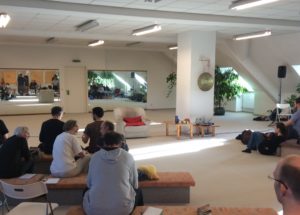 A special highlight of the trip was spending time at Tai Chi Schule, Neu Ulm, an extraordinary Tai Chi and Qigong school led by Energy Arts Senior Instructors Elisabeth Woersing and Ralph Heber. Tucked away in the top floor of a nondescript former US Army building, Elisabeth and Ralph have created an amazing environment for learning and practicing internal arts. Upon entering the training space, I was immediately struck by its spaciousness, tranquility, and positive energy.  That sense only deepened over the week. It did not surprise me to learn later that Bruce conducted a special Taoist consecration ceremony at the school in 2000.  It is genuinely a special place.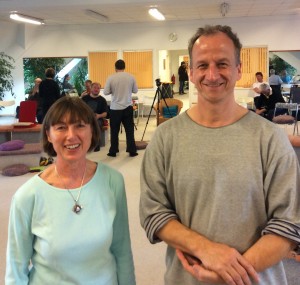 To learn more about Ralph and Elisabeth and their school, check out this article.  A few sentences from the article provide a great testimonial to the value of training with Bruce Frantzis:
"We met Bruce for the first time in Darmstadt in 1993. It was a weekend seminar with the subject 'Bend the Bow'. Although at that time we had more than 8 years of experience of Qi Gong and Tai Chi training, it was very difficult for us to understand and work with the internal principles that he demonstrated because it was the first time that we had been introduced to them. We were simultaneously fascinated by the internal power and clarity that Bruce showed and frustrated on finding out how little we knew about internal work (Nei Gung) at that time. At this first weekend with Bruce we had the impression of learning more in a few hours than in the entire previous 5 years."
Ralph and Elisabeth are deeply experienced teachers, and I have benefited from lessons they have led during summer Instructor trainings.
When in or near Germany, I encourage you to make the trip to Neu Ulm, meet Ralph and Elisabeth, and check out their school.  For more information, check out their website here.
The seminar.
The training with Bruce went deep fast and pretty much stayed there. He covered the physical movements in the first two days, with much of the rest of training focused on the internal work, or neigong. We received ample instruction on the primary energy flows of the movements, including flows up and down the right, left, and central channels. This can involve moving Qi at increasing depth, including through the bones. As far as the physical body goes, Qigong doesn't get much deeper than that!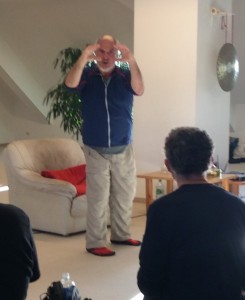 But the training did not stop there. Over the week, Bruce guided us on how the movements and neigong of GPC can link to meditation, helping to achieve a greater degree of stillness in the mind, nervous system, and energy, and building a stronger foundation for mediation practice.
Characteristic of Bruce's teachings, along the way, he would drop in a variety of specific suggestions and tips on how to use GPC to heal injuries, deal with stress, and improve life in a range of ways.
GPC in Spain, Summer 2015.
To see the six movements of GPC, check out this video of Energy Arts Senior Instructor Paul Cavel demonstrating the set (used with permission).  (Note:  Paul's movements reflect decades of high-level practice.  Most of us dial back the movements considerably.  For more on Paul's teaching, check out http://www.circlewalking.com/)
Paul Cavel, Gods Playing in the Clouds, France, 2010.



If this interests you, GPC will be the focus of Bruce's Summer 2015 Retreat and Instructor Training on the Spanish island of Ibiza. Details should be posted soon on the Events page of the Energy Arts website.
Between now and then, the 5 days in Neu Ulm provided plenty of material to practice, stabilize, and integrate over the winter and spring.
And with that, I will close and practice another set of Gods Playing in the Clouds!
Interested in powerful benefits of Qigong? Check our our workshop on November 23 at Enso. For more information and to sign up, click here.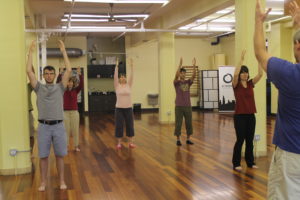 Keep practicing!
Chris Cinnamon
Enso Martial Arts
Tai Chi and Qigong Instructor
Energy Arts Certified
visit our website www.chicagotaichi.org