Summer Instructor Training Update – A deep dive into Qigong with Master Bruce Frantzis
Greetings from Spain!
We've past the half-way point in a 4-week Instructor Training with Master Bruce Frantzis here on the Spanish Island of Ibiza. (If you are not familiar with Bruce, you can read his story here.) The training has been rich, deep, and intense. I wanted to share with you a quick report.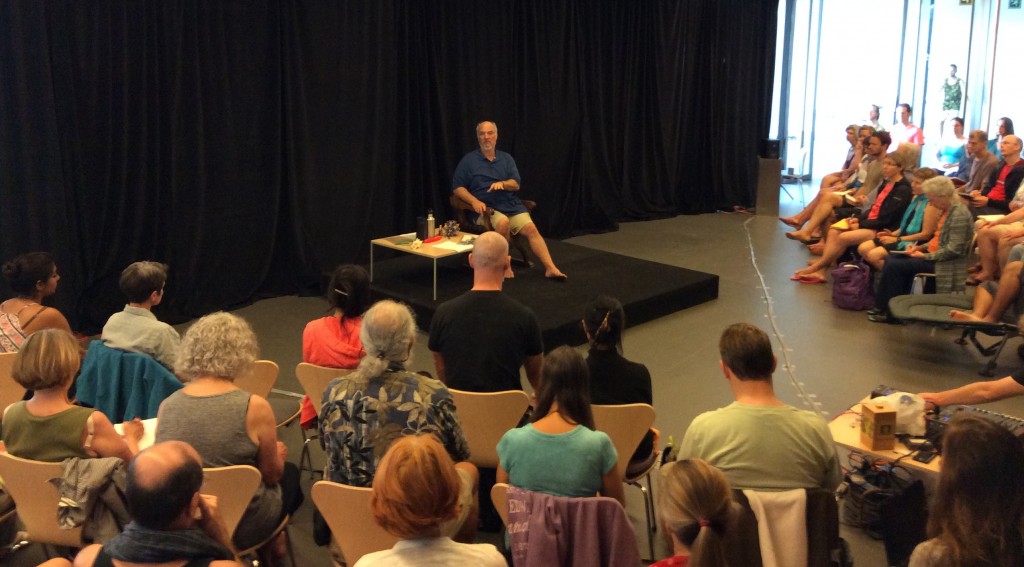 Bruce Frantzis explaining one of the many fine points of Gods Playing in the Clouds Qigong.
Who's here
I am here with a diverse group of 120+ Energy Arts Instructors and practitioners from over 20 countries. Experience levels range from those new to the material to those that have studied with Bruce for decades. Ages range from mid-20s to 70+. The group has a genuine "community" feel. Those attending, often separated by oceans and continents during most of the year, reunite, refresh friendships, and work together to learn and practice challenging material. While the training is serious, there is plenty of good humor and camaraderie.
The set – Gods Playing in the Clouds Qigong ("Gods")
The Energy Arts System includes a sequence of six Qigong sets, beginning with Dragon & Tiger Qigong and capped by Gods. The set consists of six movements. The physical movements are reasonably sophisticated, and in themselves provide a range of benefits to the body – loosening tight shoulders and necks, helping alleviating back issues and strengthening the spine, improving hip and leg flexibility and strength, and more.
But the real action in Gods is internal. As the top set in the system, Gods incorporates all the internal practices or "Neigong" of the other five sets. We are spending lots of time working on alignments, ligaments, fascia, joints, internal organs, the spine, and more. All this work aims to improve the health and function of the body and increase and balance Qi flow.
The Training.
The days, although long, have settled into a rhythm. We have formed practice groups of 8 – 10 people, roughly organized by skill level. Practice groups meet in the morning to complete three full sets of Gods (360 movements, taking about 75 minutes). Then Bruce teaches for 2 – 3 hours. Frequently during the lessons, we will break out for partner exercises or individual exercises to help internalize the points covered.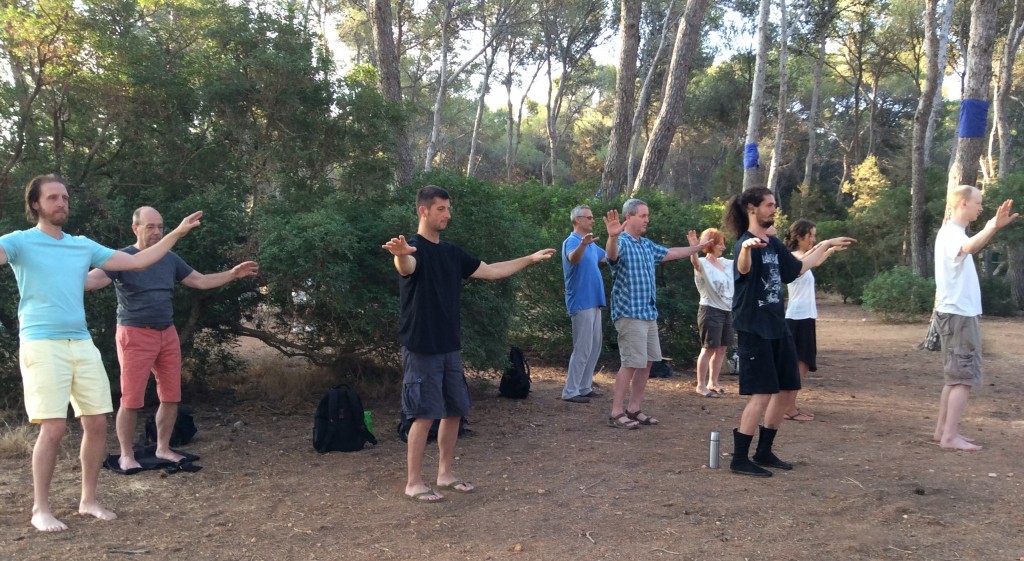 Morning group practice. Morning practice under the pines with my practice group. All are Energy Arts Instructors with multiple certifications and are seeking Level 1 Certification in Gods. From the left (with links to instructor profiles and websites): Paul Pallant, USA; Helmut Dietterle, Germany, http://www.psymbion.com; Jason Roberts, UK, http://www.sussexhealtharts.co.uk; Gee Loose, UK, Andy Clark, Belgium; yours truly!; Paul Morris, UK;, Clair Finlalor, Portugal, http://montedavida.com/community/,  Marietta Schmid, Germany, http://www.mariettaschmid.com/; Missing from photo: Maylis Bernet, France and UK; and Group Leader, Jackie Smith, Scotland, a Gods Level 2 candidate, http://www.unseenstream.com/.
After a lunch break, we return for another 2 – 3 hours of teaching from Bruce, followed by more training with the Senior Instructors. The "Seniors" are a cadre of superb teachers, all of whom have studied under Bruce for at least 30 years, and most of whom run leading Tai Chi and Qigong schools in their regions.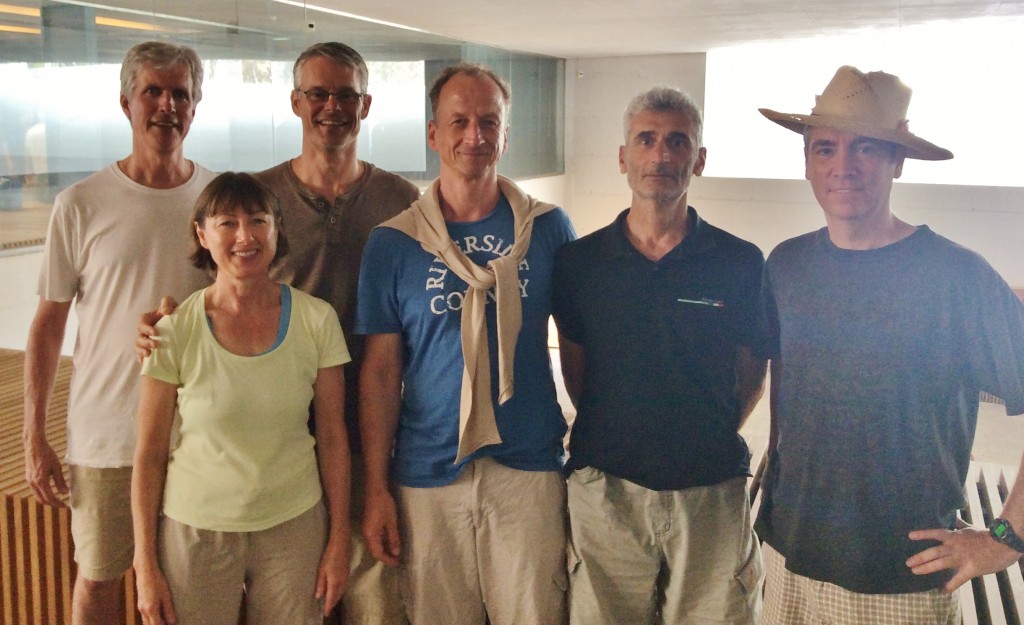 The Seniors. The Senior Instructors play a major role in administering the training and supporting Bruce's teaching with extra instruction and lots of individual corrections. All are deeply seasoned practitioners and outstanding teachers. Many of them put out excellent material, often for free. Check out their profiles and websites. From the left, with links to instructor profiles and websites: Bill Ryan, US, http://www.towardharmony.com/; Elisabeth Woersing, Germany, http://taichi.de/; Paul Cavel, UK and Spain, http://www.circlewalking.com; Ralph Heber, Germany, http://taichi.de/; Dimitris Pitianoudis, Greece; Craig Barnes, US.
For those of seeking Instructor certification, the training will culminate in testing, during which we will need to demonstrate that we can perform the set in accordance with detailed criteria established by Bruce.
Where we are.
A short flight from Barcelona, Ibiza is one of the four main Balearic Islands of Spain. The coastline features pine covered hills, interspersed regularly with cliffs, coves, and wonderful beaches.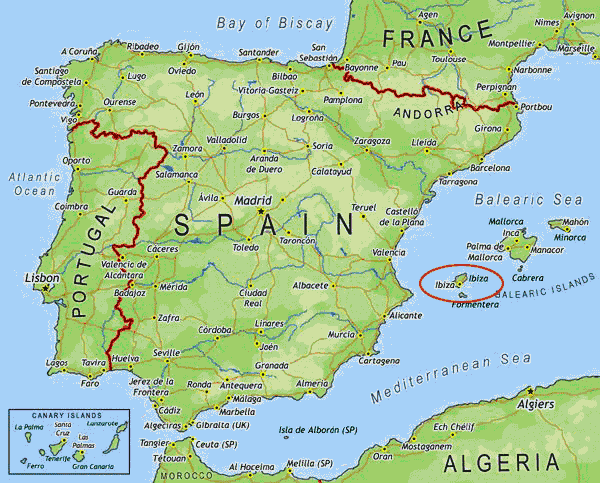 The island has an international reputation for its dance-til-dawn club scene. Our training center is in the town of Santa Eularia, well removed from the late night action. Here, most of the vacationers are families, and the nights are quiet.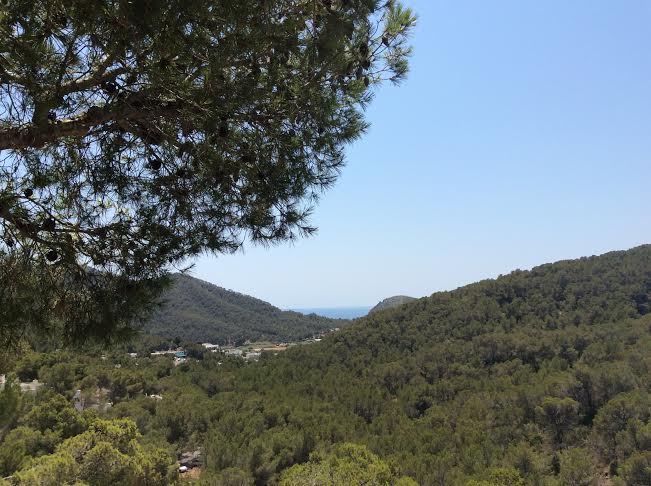 Tranquil Ibiza. One of my peaceful practice spots on Ibiza, with views of pine covered hills, the sea, and blue sky.
The island has a special history as a place of refuge, and some feel the island has unique and beneficial energy. This is the third summer training I have attended here, and I sure like it.
Back to class soon. So that's the update from the Med. I return at the end of July, and Tai Chi and Qigong classes resume at Enso on Monday, August 3. For more information on our Summer Session, click here.
Until then, keep practicing!
Best,
Chris Cinnamon
Enso Martial Arts
Tai Chi and Qigong Instructor
Energy Arts Certified
visit our website www.chicagotaichi.org