¡Hola de Ibiza!  A quick report at the midpoint of this summer's four week Qigong retreat led by Master Bruce Frantzis.
Over 100 practitioners from more than 20 countries have traveled to the pleasing Balearic Island of Ibiza for this event.  Characteristic of all Bruce's courses I have attended, the training has been deep, rich, and at times, intense.  Feeling lots of gratitude for the opportunity to learn the material Bruce is sharing here.
Opening the Energy Gates Qigong and Taoist Breathing

Energy Gates.  The first week focused on refining the foundational Qigong set Opening the Energy Gates of the Body.  Energy Gates consists of standing practices, a version of Cloud Hands, Three Swings, and the Taoist Spine Stretch.  I teach portions of the set to Tai Chi and Qigong students at Enso.  Bruce's book, Opening the Energy Gates of the Body, is a great resource for those interested in the set.

The week included a beginner track for those new to Energy Gates.  For those of us familiar with the set, the week focused on refining the physical movements, upgrading the energetics, with lots of work on connecting arms and legs to the internal organs, both physically and energetically.  A consistent emphasis of the week was how practicing Energy Gates strengthens the internal organs, with major benefits to health – physical, emotional, and mental.
Taoist Breathing.  The first week also included instruction in more advanced Taoist Breathing practices, again with an emphasis on using breath to target internal organs in a variety of ways, including to increase and balance energy flow between organs.
Spiraling Energy Body Qigong
The second and third weeks are devoted to Spiraling Energy Body Qigong, in many respects an advanced version of Energy Gates.  For example, in the standing practices of Energy Gates, we typically use the Neutral Posture and focus in developing a clean, downward flow of Qi.  In Spiraling Energy Body, Bruce assigns each student a standing posture, and we work on developing an upward flow of energy.
Posture assignment is a fascinating process.  Bruce teaches that Taoist practices include 200 standing postures, each developed to open or improve specific energy flows or develop specific energetic capabilities.  For each student, Bruce performs an energetic diagnosis, then assigns a posture to help address a person's particular condition.  Then during the standing practice portions of the training, each student assumes their custom posture, with lots of variation in positions.
My assigned posture seems designed to open my heart and chest area both laterally and vertically.  As I hold it, I can perceive it working, creating more space in the chest, helping more energy circulate to the arms, which, seemingly paradoxically, become lighter, the longer I hold the posture.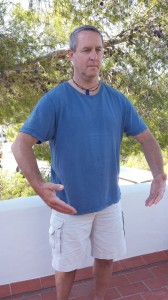 Then both in standing practice and using the movements from Energy Gates, with Spiraling Energy Body we are learning how to bring energy up from our feet through the top of our heads and beyond.  The practice further energizes the system and provides a foundation for lots of applications for health, healing, and life.  More to come in the next two weeks, including bringing Spiraling Energy Body into Tai Chi.
A word about Ibiza
Ibiza has a reputation as a European epicenter of drug fueled, all night mega dance clubs.  While I can't speak from personal experience, I understand those experiences are available on the southern part of the Island.  (My favorite heavily advertised club name is "Amnesia".)
Our training takes place in the town of Santa Eularia, well north of hard partying Ibiza town.  This area is a pleasant, family-oriented vacation spot, where pine covered green hills drop down to deep blue Mediterranean coves.  The pace is calm and the nights peaceful and quiet, with a sparkling firmament above.  Plus the Island is reportedly known for its positive healing energy.  So my plug for Ibiza – if in Spain and you want an Island experience (with or without Amnesia), check it out.
Enso Tai Chi Summer Session begins August 4
Classes will resume Monday, Aug 4, for an abbreviated 8 week session.  One schedule change:  for the first two weeks of August, our Monday and Wednesday midday classes, both Tai Chi and Qigong, will be held at 1 – 2 pm.   This is to accommodate Enso's popular Summer Karate Camp.  Back to our regular class schedule, Monday, August 18.
We are offering a special rate for the 8 week Summer Session – $75.
For those interested in Tai Chi or Qigiong at Enso, I encourage you to join a class.  You can contact me with questions at chris@chicagotaichi.org.
Chris Cinnamon
Enso Martial Arts
Tai Chi and Qigong Instructor
Energy Arts Certified