A trip to Northampton, Mass. for training with Energy Arts Senior Instructor Bill Ryan
I recently traveled to Northampton, Mass. to train at Toward Harmony Tai Chi and Qigong with Energy Arts Senior Instructor Bill Ryan.  Here's a brief report on an outstanding weekend of learning and practice.  And thanks to Portland, ME- based Energy Arts Instructor Trevor Barry for help with photos for this post.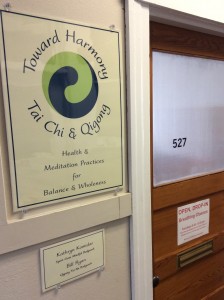 The Material – Spinal Qigong and Wu Style Tai Chi
Spinal Qigong – Bend the Bow.  The main motivation for the trip was an introduction to Bend the Bow (BTB), a Spinal Qigong set brought back from China by Master Bruce Frantzis.

At the beginning level, BTB focuses on connecting and smoothing movement of the spinal column, with an emphasis on controlling the movements through spinal ligaments.  At the tissue level, one quality of ligaments is that they are springy.  Like a spring, you can load them, then release them.  On the release, like a spring, ligaments can power movement.

My experience with learning to move the body through loading and releasing ligaments is, I think, typical – I find it subtle and a little tricky.  During Tai Chi Instructor Training with Bruce Frantzis, we learned how to move the arms through loading and unloading ligaments.  BTB takes that up at least a few notches, first by working spinal ligaments, then connecting the movement of spinal ligaments to ligaments in the arms and hands, then the legs and feet.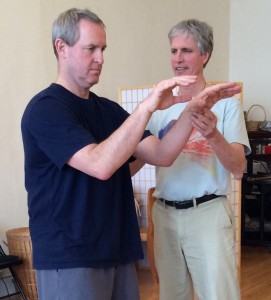 Under Bill's instruction, by the end of the weekend, I began to get a reasonably clear sense of loading and unloading spinal ligaments, then connecting that action to the loading and unloading of ligaments in the arms and legs.  At my level, the movements are small, and it takes lots of concentration to attempt to keep track of all the moving parts.  But as I practice the movements, I begin to get a clearer sense of working the body at a deeper, more connected layer.
For more information on BTB, check out this page on Energy Arts website (including a video of Bill) –  Bend the Bow Spinal Qigong.
Wu Style Tai Chi Long Form.  I've worked with Bill for several years on the Wu Style Short Form.  About a 18 months ago, I began my journey into the Wu Style Long Form.  During breaks from BTB training, we turned to Tai Chi, focusing mainly on the kick sequence about 1/2 way into the Long Form.  Compared to the Short Form, the Long Form involves more twisting and direction changes and you spend more time on one leg, especially during the kick sequence.  Definitely some steps up in degree of difficulty.

By the end of the weekend, Bill had guided me to the end of the kick sequence, giving me plenty of material to bring back to Chicago to practice.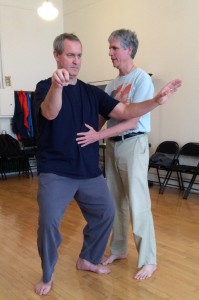 On Saturday, Bill and another student welcomed me to join them for an hour of push hands.  We had a great time, and I receive many helpful pointers from Bill and his student, mostly as I was being uprooted and pushed across the Studio!
The Venue – Toward Harmony Tai Chi and Qigong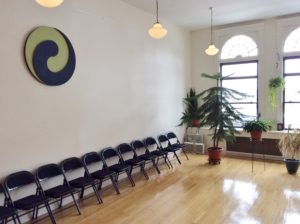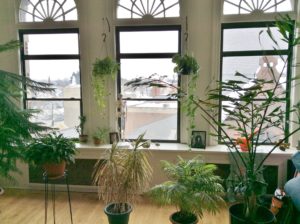 Bill and his partner Kathryn Komidar own and operate Toward Harmony Tai Chi and Qigong, a beautiful studio in downtown Northampton.  It's a serene training space, with excellent light and a view of the Northampton rooftops and steeples, with the foothills of the Berkshires beyond.  Bill and Kathryn offer classes, workshops, bodywork, and seasonal weekend retreats.  For out-of-towners, the seasonal weekend retreats are especially attractive.
Having sampled many of their offerings, I can say the following:  Their instruction is of the highest quality, the material is deep and authentic, and the atmosphere is comfortable and relaxed.  In my experience, a great combination for learning.
For more information on Kathryn's and Bill's teaching, check out www.towardharmony.com
While you are on their website, I encourage you to sign up for free Chi Tips.  You will receive periodic emails with insightful practice tips, often with a seasonal theme.
Working with Bill.
A final note about working with Bill.  As an Energy Arts Senior Instructor, Bill has received Bruce Frantzis's imprimatur as a deeply experienced, highly knowledgeable, and skilled instructor.  And spending a little time with Bill, it rapidly becomes clear why.  An example.  Once during our Tai Chi sessions, I settled into Single Whip.  In moments, Bill diagnosed exactly where my back was tight.
I asked, "How do you do that?"  With a laugh, he responded "Lots of experience."
Then with a few subtle adjustments, he guided the posture to target the very places my back was tight.  And as I maintained these adjustments during the form, the movements worked more deeply into areas of the body that were tight, blocked or stuck.
So within minutes, my Tai Chi became deeper and more focused on areas that needed work.  In my view, that's both high level and very practical teaching.  Thanks Bill!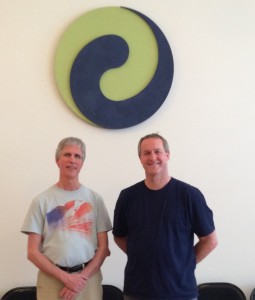 That's my report.  Keep practicing!
Chris Cinnamon
Enso Martial Arts
Tai Chi and Qigong Instructor
Energy Arts Certified
visit our website www.chicagotaichi.org