Greetings Enso Tai Chi and Qigong students and friends,
This blog post includes a video of my recent interview with Energy Arts Senior Instructor Bill Ryan.  I have embedded the video further down in this post. To enjoy a few minutes with a deeply experienced teacher, check it out.
From Chicago to Massachusetts for Qigong and the energy of Fall.  I recently traveled to the Berkshire Mountains of Western Massachusetts for a weekend Qigong retreat led by Bill Ryan and Kathryn Komidar.  Bill is an Energy Arts Senior Instructor, has studied with Bruce Frantzis for more than 30 years, and is a deeply experienced Tai Chi and Qigong teacher and practitioner.  I have trained with Bill on several occasions in Boston and Northampton, coming away on each occasions with lots of material to help advance as my practice and improve my teaching.  I had been wanting to join one of Bill and Kathryn's retreats, and I was delighted when this fall the schedule worked out.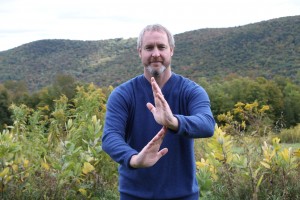 It was an immensely beneficial experience.  Under Bill's and Kathryn's guidance, attendees had the opportunity to "unplug" from the demands, stresses, and distractions of daily life, and "plug into" the subtle energy of the earth, the heavens, and ourselves.
A main theme of the retreat was using our Qigong practice to tune into the energy of the changing season, and at the same time feel how that subtle seasonal energy may be influencing are own energy and Qigong.

Interview with Bill Ryan on practicing Tai Chi and Qigong in Fall and Winter.  Bill was kind enough to break away from retreat duties to answer a few questions about how the seasons can affect our practices, and how the seasons can help guide what we may want to emphasize, focus on, or let go and let happen in our practice.  During our talk, Bill focused on considerations for fall and winter practice.  Bill offers some really helpful guidance, especially for those of us practicing Tai Chi or Qigong in Chicago, where we experience a clear change of season in Fall, followed by "Real" winter.  To enjoy a few minutes with a deeply experienced teacher, check out the video below.
Bill and Kathryn operate Toward Harmony Tai Chi and Qigong.  For more information about their teaching, programs, and retreats visit http://www.towardharmony.com/
Hope you find this useful for your practice.
Check back soon for a report on my recent encounter with Chicago street violence.  I'll share a martial artist's perspective on what I saw.
Until then – keep practicing!
Chris Cinnamon
Enso Martial Arts
Tai Chi and Qigong Instructor
Energy Arts Certified