Check out the November Qigong Workshop at

Enso Tai Chi
Interested in the powerful benefits of practicing Qigong?  Check our our November workshop.
Beginners and practitioners of all levels are welcome.  Details and online registration links follow.
Marriage of Heaven and Earth Qigong Workshop
Sunday, November 23, 10:00 am – 2:30 pm
Enso, 412 S. Wells, Seventh Floor
An ancient Qigong set from China, Marriage of Heaven and Earth (MHE) Qigong helps develop key internal practices or "neigong" including lengthening, wrapping, and pulsing.  Learning these internal practices can help you better strengthen, balance, and move your internal energy or "Qi," with powerful benefits for health and wellness.
To sign up online, click Enso Tai Chi Qigong Workshop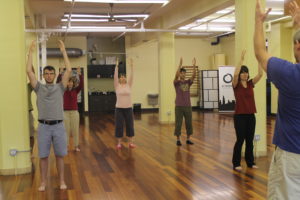 Workshop attendees practicing MHE Move #1
For those new to MHE, this Workshop will cover the physical movements and introduce students to some of the internal practices of the set.
For those who attended our MHE Workshop #1 in September, this Workshop will build upon the material introduced there, refining the physical movements and introducing more internal content.
The material will be tailored to the experience levels of attendees.
Beginners and more experienced Tai Chi and Qigong practitioners are welcome.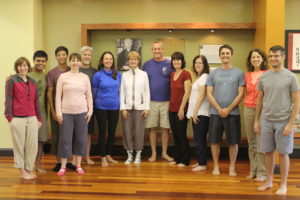 Feeling good after MHE Workshop #1!
The workshop will include approximately 3.5 hours of instruction and practice, with a 1 hour lunch break.
Workshop fee: $35
To sign up online, click Enso Tai Chi Qigong Workshop
Questions?  Email info@chicagotaichi.org