More Qigong and Tai Chi in Chicago at Tribe, a Healing Arts Community
For Chicago readers, I want to encourage you to check out a very special place growing roots on the border of Lakeview and Roscoe Village – Tribe, a Healing Arts Community.
Tribe, 1819 – 1821 West Belmont, offers a serene studio for classes and workshops plus treatment rooms for a wide range of therapies from a growing "tribe" of skilled practitioners. Established in 2013 by Cari Rogers and Ellen Letten, Tribe has rapidly established a presence as a serene center for healing arts practitioners and their clients. To check out the range of modalities offered at Tribe, from Sports Massage to Shiatsu to Reiki and more, click here.
Cari Rogers and Ellen Letten, building a community at Tribe.
Post-construction, the beautiful training space Cari and Ellen created at Tribe.
I have offered Intro to Tai Chi workshops at Tribe, and am back to Tribe this month to team teach with Qigong instructor Jeanne Steen.  Jeanne is leading a delightful group of Qigong practitioners through an in-depth exploration of Dr. Aihan Kuhn's Wellness Qigong Form. Jeanne also offers Reiki and EFT at Tribe, two healing modalities well worth trying out.
Like me, Jeanne is a big fan of Dragon & Tiger Qigong, so we are teaming up to introduce some D&T to her students.  It's a pleasure working with such an experienced and engaged group.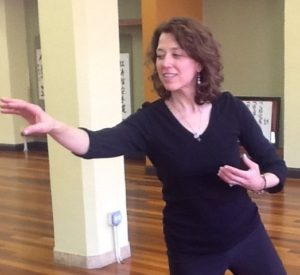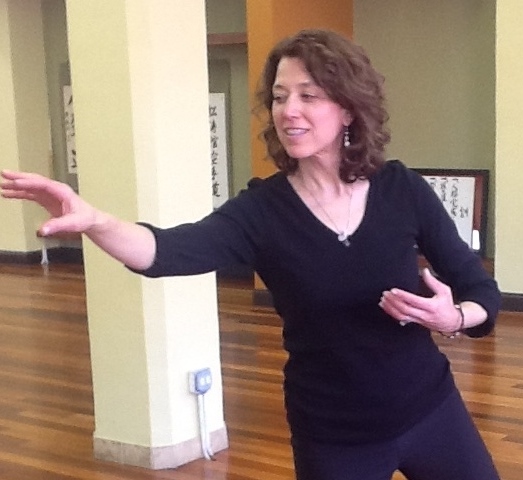 Tribe Member Jeanne Steen, clearing Qi with Dragon & Tiger Move 2.
I anticipate offering regular classes at Tribe this Fall.  If you are interested in learning my process to heal the body, regain mobility and function, and reduce reliance on invasive medicine as we age, stay tuned!

One excellent community building initiative underway at Tribe is their Tuesday Community Nights.  Currently, each Tuesday night beginning at 6 pm, Tribe offers free wellness classes and mini-treatments.  Recent offerings have included Hatha Yoga, Intro to Acupuncture, Breathing and Alignment, Holistic Approaches to Anxiety, and more.  For more information about this important and free wellness resource, click Tribe Community Nights.
In short, I've become a strong supporter of Tribe.  Cari, Ellen, and their Tribe of healing arts practitioners are making a difference up on Belmont.  I encourage you to check out Tribe.  http://www.tribehealingarts.com/
Best,
Chris Cinnamon
Enso Martial Arts
Tai Chi and Qigong Instructor
Energy Arts Certified
visit our website www.chicagotaichi.org