Enso Tai Chi – Summer Session wraps up, Fall Session Begins
Enso Tai Chi's Summer Session concluded on September 29, with an engaged group of over 20 students, learning, enjoying themselves, and improving their lives with Tai Chi and Qigong.  Our 12-week Fall Session just started, and we welcome several new students to our classes.  There's still room, so come join us and begin improving your life with Tai Chi and Qigong in the Chicago Loop!
Here's a quick report on Summer Session highlights and upcoming Fall Session events.
Corporate Wellness
We continue to explore how to deliver the benefits of Tai Chi and Qigong to organizations and companies.  Our Summer Session classes included a wonderful group from Friends of Chicago River, an exceptional organization dedicated to improving the health of the Chicago River.  This Summer FOCR picked Tai Chi classes as one component of its organizational wellness program. Several FOCR folks are joining us for Fall Session too. 
We also offered trial classes at the Big Red Athletic Club, the impressive in-house health club at CNA Insurance Headquarters in the Loop.  Over 30 Club members joined our classes and experienced how Tai Chi and related practices can help relieve stress, increase energy, help their bodies, and improve their lives.
To help support corporate wellness initiatives, we offer special group rates for classes at Enso and for classes and workshops at your location.  If interested, contact us at info@chicagotaichi.org.


Wu Style Tai Chi
During Summer Session, our Tai Chi students made impressive progress on the 27-move Wu Short Form.  Students ranged from those just starting Tai Chi to those in their third year of practice.  Beginning students learned Tai Chi fundamentals and the moves and postures through "Single Whip," the first third of the Short Form.  Continuing Practice students refined their forms, incorporating more internal material or "neigong," with special Summer emphasis on rooting and lengthening.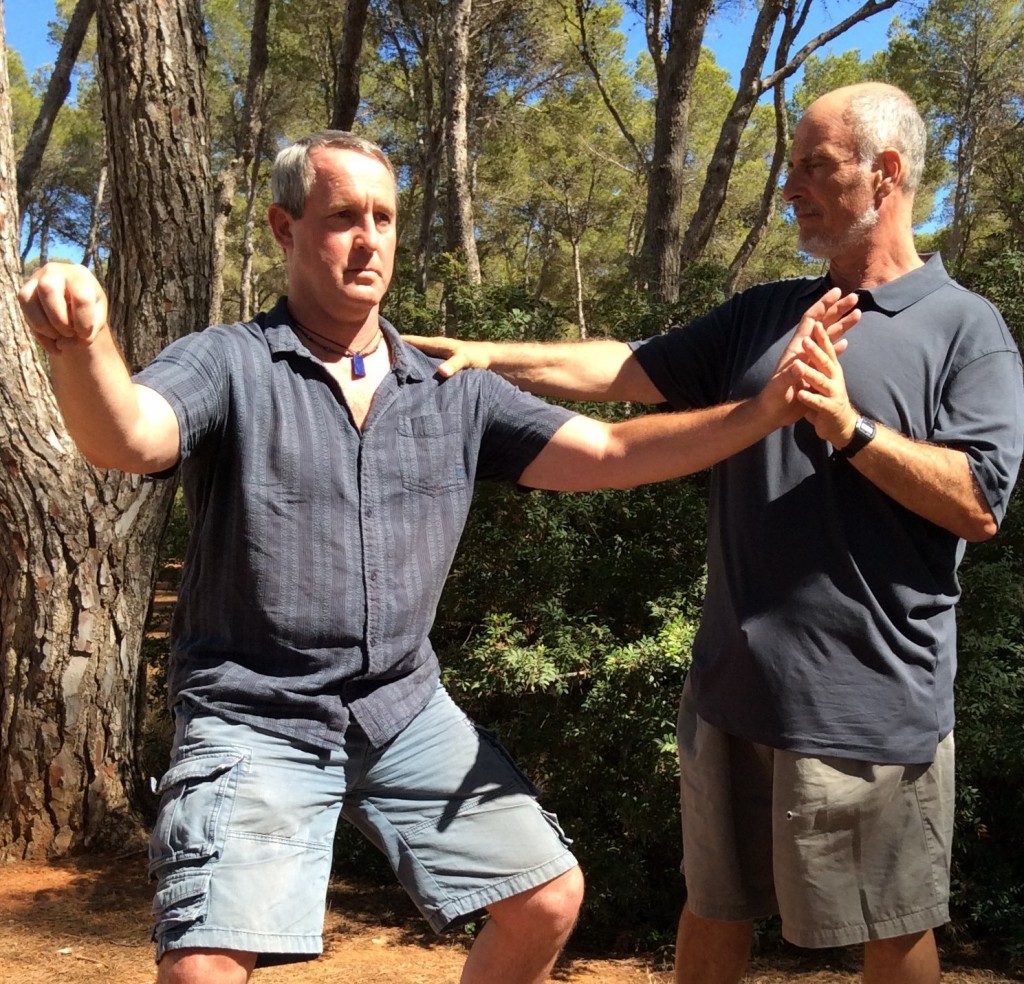 Qigong – Marriage of Heaven and Earth (MHE) Qigong Workshop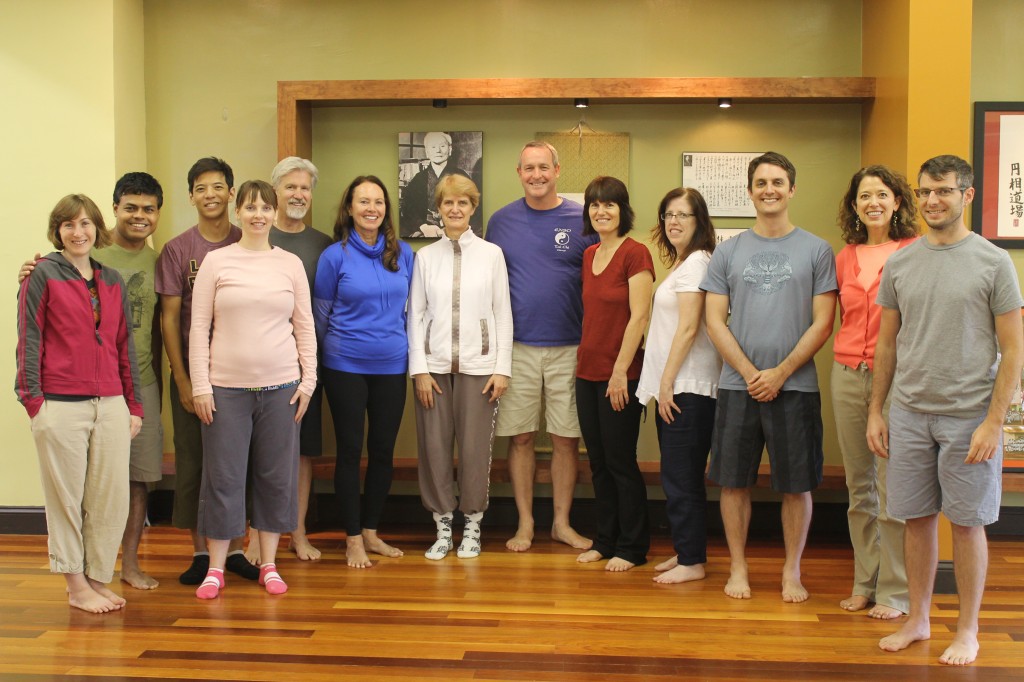 In September, we offered our first MHE workshop, with 12 attendees joining us for an introduction to this powerful Qigong set.  As the students learned, even at a beginning level, the physical movements of MHE are immensely helpful for releasing accumulated tension in the shoulders, neck, and upper back, returning a measure of flexibility and softness to tissues hardened by years of chronic tension.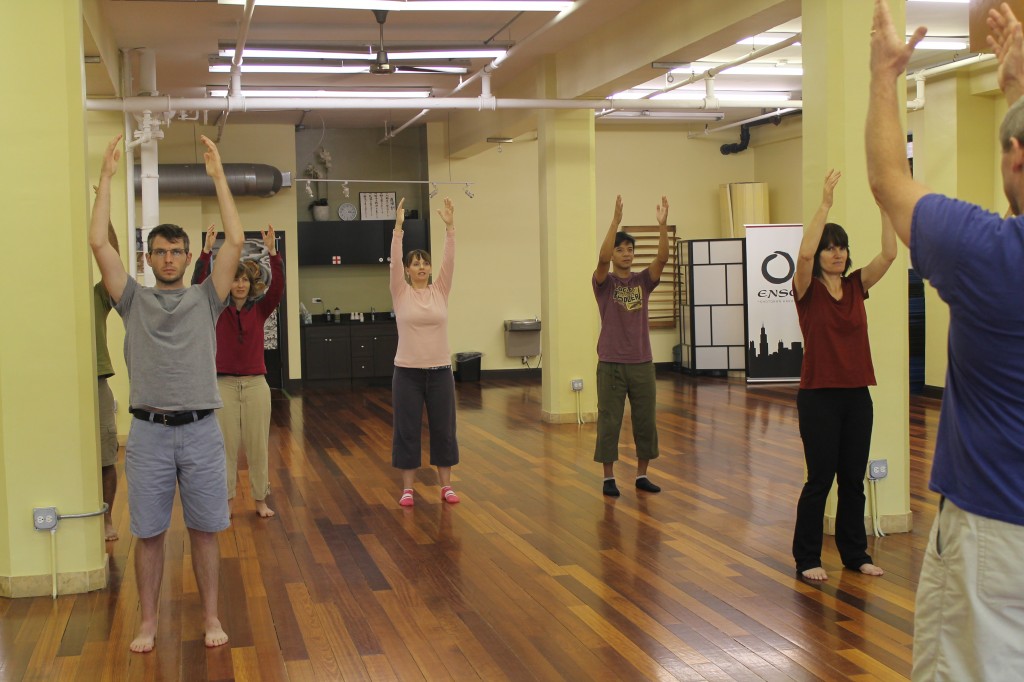 One of the key internal elements or "neigong" of MHE is pulsing, the opening and closing of internal spaces.  Pulsing is a powerful method for releasing tension at deeper levels, improving circulation of bodily fluids, and strengthening circulation of internal energy or Qi.  All attendees received an introduction to pulsing the wrist joint, learning to move internally one part of their body in a new and very beneficial way.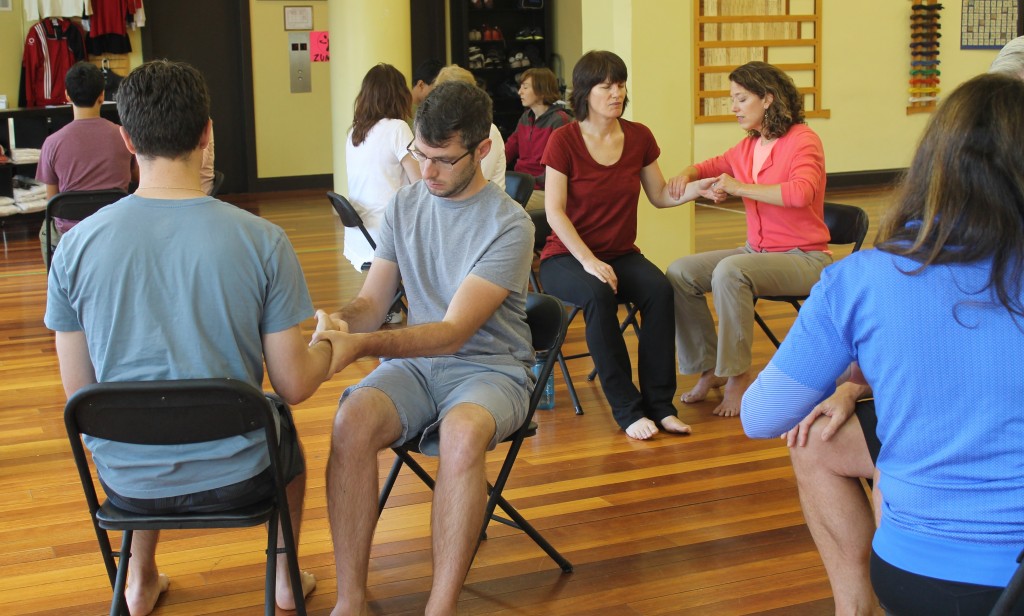 Overall, a fine Summer Session at Enso Tai Chi.




Enso Tai Chi's Fall Session has just began, and we are delighted to welcome several new students as they begin their exploration of Tai Chi and Qigong.  There's still room in our classes, and there is no better time than the present to start.  The sooner a person starts Tai Chi, the sooner the person begins to enjoy the many benefits of Tai Chi practice, including reduced stress, increased energy, and more balance in their lives.    We offer morning, midday, and evening classes, plus new lower class fees.  For a schedule of classes and fees, click Enso Tai Chi Fall Session.
To register for classes, contact us at info@chicagotaichi.org


Other Fall Session highlights.
Introduction to Tai Chi Push Hands Workshop, Saturday October 11, 11:15 – 12:45.
Registration link:  Tai Chi Push Hands Workshop
Most people think of Tai Chi as a series of slow, flowing movements. And it is! But Tai Chi is also a sophisticated close-in fighting system. Tai Chi Push Hands is the dynamic two-person exercise that serves as a bridge from solo Tai Chi form work to Tai Chi fighting.
But there are lots of valuable non-martial reasons to practice Push Hands – including improving the ability to remain balanced, centered, and relaxed when interacting with another person.  So join us on October 11 for an Introduction to Tai Chi Push Hands.
No experience required!  Free for current Enso Tai Chi and Enso Karate students.  $15 for non-students.
To register, click Tai Chi Push Hands Workshop


Other Fall workshops.
We are currently firming up the date for our next Marriage of Heaven and Earth Workshop this Fall.  We will update you when that is set.


That's all for now.  See you in class!


Chris Cinnamon
Enso Martial Arts
Tai Chi and Qigong Instructor
Energy Arts Certified
www.chicagotaichi.org