In this article, I delve into a significant and growing health problem – knee osteoarthritis (knee OA). I also point to some exciting developments in medical research for knee OA sufferers – the very real potential for Tai Chi to improve pain and function for knee OA patients. If you have knee OA or know people that do, I encourage you to read on.
I also offer a short video where I teach two simple Tai Chi techniques that have helped me and my students relieve knee OA pain and improve knee health.
Knee OA hurts.
Those of us with knee OA are deeply familiar with the primary symptom – PAIN.
It can hurt to go up stairs. It can hurt to go down stairs. It can hurt to get out of a chair. It can hurt to sit in a chair. It can hurt to get in and out of a car, or drive for extended periods. A whole range of everyday activities can become increasingly painful and difficult.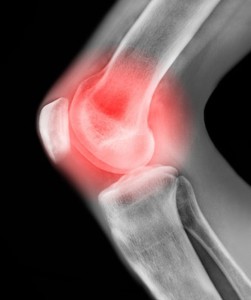 The primary symptom of Knee OA – PAIN
Tai Chi for Knee Pain - Free Video
Enter your email for instant access to the video where I teach two simple Tai Chi techniques for knee health. You can start practicing these techniques today. Check your email inbox for the video link.
For knee OA sufferers, life can become increasingly limited. We can become less active, losing mobility and function. The primary treatment options? Pain medicine and, ultimately, joint replacement surgery. Not an attractive trajectory for our Golden Years.
My interests in knee OA. As an instructor at Chicago Tai Chi, I regularly help students with knee OA. I help them learn to feel their knees in more detailed and subtle ways. I help them learn how to align their bodies and move in ways that can balance and reduce pressures within the knee. In short, I help them learn how to exercise with Tai Chi in ways that do not aggravate their knee OA.
I am also pursuing a Masters in Kinesiology/Applied Exercise Physiology. I spend lots of time digging into current research into knee OA, including alternative treatments like Tai Chi.
I also have a very personal interest in knee OA. I have a diagnosis of OA in both knees.
My youth and adulthood have included years of contact sports (football and basketball), hard martial arts (karate), thousands of hours of pavement-pounding roadwork and other high impact exercise. I have sustained at least three injuries to knee cartilage resulting in two surgeries. Beginning about 15 years ago, my knees began to hurt from everyday activities. Taking stairs, getting out of chairs, sitting for extended periods, most types of workouts – all resulted in painful knees.  I began to take daily doses of Ibuprofen, sometimes lots of it, to manage the pain.
MRIs showed developing OA. I started looking ahead to years of increased pain and decreased function. I did not like that picture!
Today, I have a different experience. My knees feel good – strong, springy, well-lubricated. I can take steps two at a time, up and down. I bike, walk, sit, rise, squat, all with far less discomfort than before. I can't remember the last time I took Ibuprofen for achy knees.
What happened? A few important changes in my case. First, I do lots of Tai Chi and related practices. I know that Tai Chi has made my knees stronger, healthier and far less painful. Second, I take better care of my knees, avoiding high impact workouts that tend to pound the inside of the knee. Third, I watch my weight, diet, and hydration.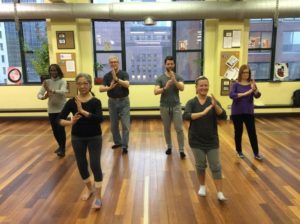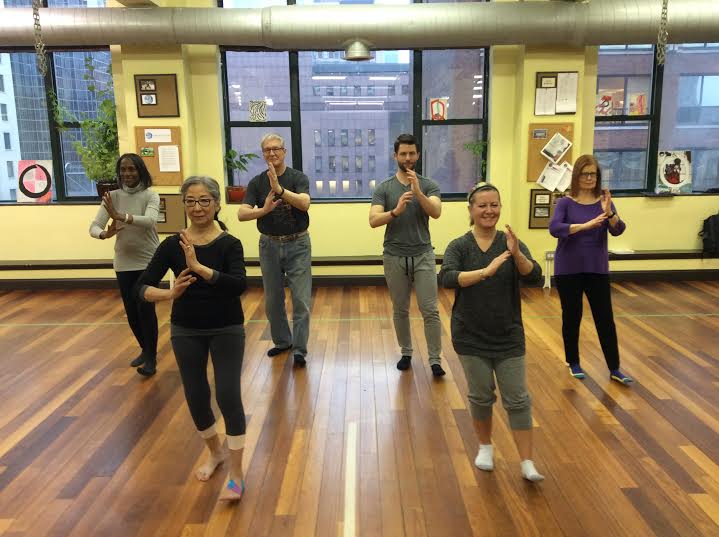 Chicago Tai Chi students enjoying class (Photo by the author.)
As a consequence, I now look forward to continuing my active life for years, without the dark cloud of more knee pain, more medicine, and possible joint replacements.
As a graduate student of Exercise Science, I know I cannot generalize from my experience. But what is really exciting is the growing body of research showing that Tai Chi helps knee OA. I get to that shortly. First some important specifics on knee OA.
Knee OA: a major health concern.
First, let's consider knee OA from a macro perspective. It's a big problem and getting bigger. Knee OA is a leading cause of disability in the US and a major contributor to medical care costs. An estimated 12.1% of adults aged 60 years and older have knee OA. The prevalence of symptomatic knee OA in those aged 70 years and older has doubled in women and tripled in men in the past 20 years.
Knee OA is costly. In 2008, 615,000 total knee replacements were performed in the US, predominantly due to advanced knee OA. The number of knee replacements is estimated to increase to over 3 million annually by 2030. Total annual US medical costs attributable to OA is an estimated $185 billion (2007 dollars), with a substantial portion of that arising from knee OA. With an average cost of total knee replacement at $21,583, the surgical costs attributable to knee OA could exceed $65 billion by 2030, with nonsurgical medical costs and lost work time likely adding tens of billions more.
The costs and consequences of knee OA underscore the importance and potential value of developing alternative treatments for the disease, like Tai Chi.
What is knee OA  and what can cause it.
Knee OA is a degenerative disease involving the eventual breakdown in all joint structures – cartilage, bone, muscles, and other connective tissue.  The primary degeneration occurs in cartilage, the thin layer of tissue covering the bones inside our knees. Before digging into diseased cartilage, it's instructive to take a quick look at healthy cartilage.

Healthy articular cartilage – an amazing tissue. Cartilage is a thin layer of connective tissue, generally less than 6 mm thick (less than a 1/4 inch). Cartilage is made up primarily of water and two types of proteins, collagen and proteoglycans. Collagen is a tough, springy, cord-like protein present in some form in many parts of the body. Proteoglycans are large proteins that help bind collagen and water together, giving cartilage its cushioning qualities.
Cartilage contains a single cell type called a chondrocyte. Chondrocytes produce collagen, proteoglycans, and other substances, secreting these materials into the non-living portion of cartilage called the extra-cellular matrix. An important point for our discussion- most of cartilage consists of the extra-cellular matrix. Put another way, most of cartilage is non-living material.
Healthy cartilage has some unusual characteristics. These characteristics become particularly important when we consider OA.
Cartilage has no nerve supply. Cartilage is aneural, meaning it is not connected to our nervous system. So when cartilage is damaged, our brain does not receive pain signals from the damaged tissue. We do receive pain signals from surrounding tissue, like bone, when it is affected, but not from the cartilage itself.
Cartilage has no blood supply. Cartilage is avascular, meaning it has no direct blood supply. This means  the living cells in cartilage, the chondrocytes, have more limited access to oxygen and other nutrients necessary for growth and repair.
Cartilage has a sparse supply of living cells. Compared to most tissue, cartilage does not contain many living cells. Most of the tissue consists of extracellular matrix, a mix of water, collagen, and proteoglycans located outside of the living cells.
For healthy cartilage, these characteristics work wonderfully. Healthy cartilage allows nearly frictionless movement of the knee joint, through millions of cycles. Healthy cartilage can last a lifetime, even with lots of activity. For example, studies have shown that for people with healthy cartilage, decades of distance running do not increase the risk of knee OA.
One other important point about healthy cartilage. Studies have shown that moderate exercise can promote cartilage health. Moderate exercise that involves loading and unloading the joints appears to stimulate chondrocytes, the active cells in cartilage, to increase production of the extracellular matrix. This increases "cushion" available in cartilage, actually making cartilage thicker, improving the ability of cartilage to sustain loads.
The problem comes when cartilage is injured or damaged. The lack of nerves and blood supply, and the sparse supply of living cells means this: Cartilage has very limited ability to heal. That takes us back to knee OA.
Diseased cartilage and the cycle of deterioration. While healthy cartilage can last a lifetime, cartilage has very limited repair capability. The exact triggering mechanisms of OA remain unclear, though research suggest the following conditions are knee OA risk factors:
knee injuries
knee surgery
malalignment
gait abnormality
occupational bending and lifting
obesity
age
Whatever the trigger, once knee cartilage begins to deteriorate with OA, there is a low likelihood of tissue-generated repair of the diseased cartilage. The diseased cartilage breaks down and is decreasingly effective in doing its job. Joint action and loading continue to stress the diseased tissue, and tissue deterioration progresses. As the cartilage deteriorates, bone is ultimately exposed, leading to deformation of joint surfaces, and loss of normal joint action,  and PAIN.
Knee OA pain contributes to a vicious cycle of deterioration. Pain limits activity, resulting in loss of muscle strength, range of motion, and mobility. This can result in physical deconditioning, weakening of the joint structure, and increased pain. Pain and related gait accommodations (limping) can shift joint loading, leading to damage of previously healthy AC, leading to more OA, further contributing to the cycle of deterioration.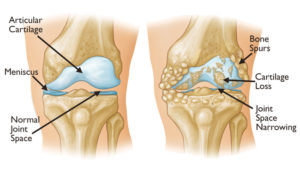 From the American Academy of Orthopaedic Surgeons, available here.
One really important point for our purposes – the deterioration of knee OA is usually gradual. This means that for some time, even for years, the joint will contain a mix of healthy cartilage and diseased cartilage. And remember – research suggests that healthy cartilage responds to moderate exercise and gets thicker.
Knee OA  and Tai Chi.

What is Tai Chi? Originating centuries ago in China as a martial art, Tai Chi today is practiced predominantly as a low-impact, health-promoting exercise. Tai Chi practice involves slow, predominately circular movements, including repeated weight shifting, waist turning, and slow, deliberate stepping.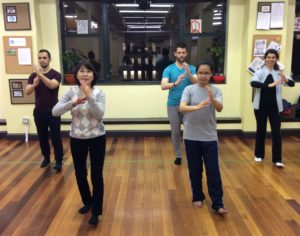 Enjoying an evening Tai Chi class at Chicago Tai Chi. (Photo by author.)
The research. For knee OA sufferers, here is really important information: Multiple studies report that practice Tai Chi significantly reduces pain and improves function in knee OA patients. This is a consistent conclusion over at least 7 separate studies involving more than 290 subjects with knee OA: Tai Chi reduces pain and improves function. For those of us looking for relief with less medicine, fewer doctor visits, and without surgery, that's a big deal.
Among the studies referenced above, subjects began reporting significant reductions in pain in as little as 6 weeks. And, importantly, for the subjects that continued to practice Tai Chi, the relief continued. In short, this research suggests Tai Chi practice can offer long term relief from the pain and physical limitations of at least moderate knee OA.
For a summary table and references to the studies, click here.
That leads us to our Top Five Reasons to Practice Tai Chi for knee pain.
Knee pain? The Top Five Reasons to Practice Tai Chi
1. Research shows Tai Chi improves pain and increases function in knee OA patients. A growing body of scientific research shows that Tai Chi improves pain and function in knee OA patients.
2. Tai Chi provides a low impact yet powerful whole body workout. One part of the vicious cycle of knee OA is that pain leads to reduced activity, leading to deconditioning, leading to further deterioration of joint structures. Tai Chi offers knee OA patients a low impact exercise that can help make legs stronger, improve balance and flexibility, and get you moving again. Plus it is fun to do!

3. Tai Chi requires no special equipment and can be done anywhere. Unlike a trip to a gym or physical therapy clinic, Tai Chi can be practiced anywhere – at home, the workplace, the park, the beach, anywhere where you have just a little space. No special equipment required! This removes common barriers to exercise, making it easier to get in the habit of regular Tai Chi practice.
4. Tai Chi practice should be pain free, or nearly so. A fundamental principal of Tai Chi practice for healing is this: When we are dealing with an injury or with a condition like Knee OA, we adjust our Tai Chi movements so that they do not cause pain. In Tai Chi, you do not "push through the pain." This only increases nervous tension and aggravates injured or diseased tissue. Instead, you adjust your movements, typically making them smaller, so that the movements do not trigger pain. The movements then can promote relaxation, circulation, and healing.
5. Tai Chi will help a lot more than your knees! The body of medical research into the benefits of Tai Chi continues to grow. So by practicing Tai Chi to help your knees, you may also experience other benefits, including:
Improved balance
Improved leg strength
Improved fall resistance
Improved immune system function
Increased bone density in the legs
Improved mood
Improved sleep quality
And more!
So why not start Tai Chi today!
Note: If you have knee OA or other condition that affects your ability to move or exercise, consult with your physician before undertaking any new exercise program, including Tai Chi.
That said, we have several students that have been referred to us by their physicians, suggesting the medical community is increasingly aware of the benefits of Tai Chi.
Want to learn more about Knee OA and Tai Chi? Watch my video where I teach two simple Tai Chi techniques for knee health. You can start practicing these today!
Tai Chi for Knee Pain - Free Video
Enter your email for instant access to the video where I teach two simple Tai Chi techniques for knee health. You can start practicing these techniques today. Check your email inbox for the video link.
Want to begin learning Tai Chi? We offer private instruction and classes in Chicago. For more information, click here.
Want to start now? Check out our Online Introduction to Tai Chi Course. It contains all the material we teach in our live Intro to Tai Chi class, and you can access anywhere and at any time.
For more information about our Online Course and to get instant access, click below.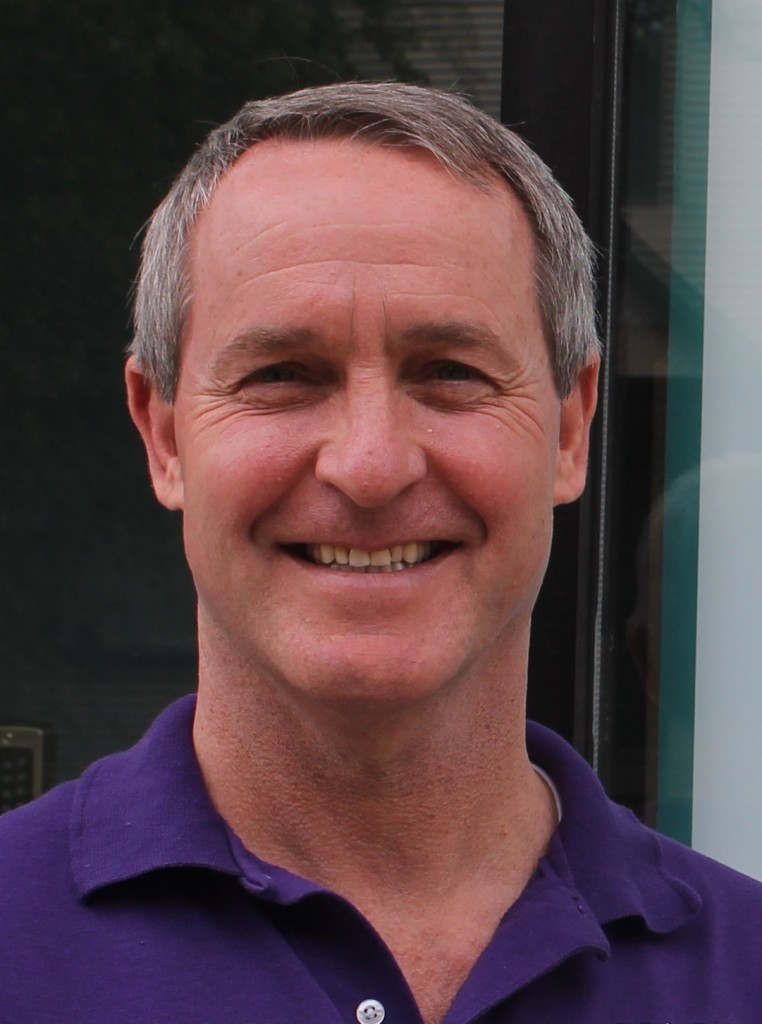 Chris Cinnamon
Lead Instructor
Chicago Tai Chi LLC
Energy Arts Certified
visit our website www.chicagotaichi.org