Enso Tai Chi Fall Workshop – A fine day of learning and practice with Dan Kleiman!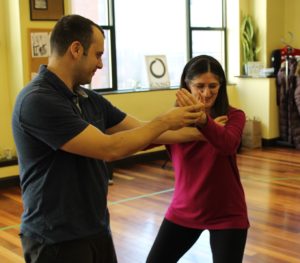 On Saturday, Nov 9, Enso Tai Chi welcomed back Dan Kleiman for our second annual "Put More 'Chi' in your Tai Chi" Fall workshop.  Dan is Program Director at Boston's Brookline Tai Chi, managing one of the largest Wu Style Tai Chi schools in the US.  A deeply experienced Tai Chi and Qigong instructor, Dan guided all attendees to improved body alignments, more solid rooting, deeper levels of internal awareness, some lengthening, and more.  Through Dan's engaging, interactive teaching style, seasoned with plenty of good humor, all attendees enjoyed a full day of learning and practice.
Here's a brief summary of what we covered –
Rooting –  aligning, sinking, guiding force into the ground.
The morning's main topic was rooting, the fundamental Tai Chi concept of connecting physically and energetically to the ground.  Through rooting, we develop the ability to absorb external force, ultimately from any direction, and guide that force through the body to the legs and feet, then into the ground.  Through rooting, a highly skilled Tai Chi practitioner seems immovable.  But at any level, developing an ability to root can bring more stability, balance, and greater internal awareness.
First, basic alignments.  To begin, Dan led the workshop through establishing basic alignments.  This involved assuming the neutral posture, "getting the mind out of the head and into the body," and aligning  ankles, knees, hips, spine, neck, and head.  Through Dan's instructions and spending some time in the neutral posture, students began to achieve a sense of balance and the smooth flow of the body's weight into the feet and ground.
Scanning and sinking.  From there, Dan guided the workshop through a top down "scan and sink" exercise.  "Scanning and Sinking Qi" is a foundational practice from Bruce Frantzis's Opening the Energy Gates Qigong.  Soon all participants had gained a palpable sense of downward flow through the body, through the feet and into the ground.  With that came a stronger sense of rooting, of guiding the force of your weight directly into the ground.
From rooting body weight to rooting an external force.  After giving everyone time to develop a sense of root with their body weight, Dan added a cooperative partner exercise.  This involved a partner feeding controlled pressure into the rooting person's chest.  From this exercise, we gained a sense of how to use alignments and sinking to root both our body weight and an external force.  The partner exercise was very effective in helping attendees gain a clearer sense of absorbing external force and guiding it into their root.
From rooting an external force to rooting force from different angles.  Then Dan guided us through a more complicated rooting exercise.  This time, the partner changed the angle of the external force.  First, applying pressure on a shoulder from 45 degrees, then from the side, then on the back of shoulder, then directly from behind, and so on.  Again, the pressure was gentle and controlled, so that the "rooter" could feel how the force came into the body and how to adjust internally to direct that force down to their root.  I heard plenty of "wow, that's cool" as people began to get this.
Circling back.  To wrap a morning of rooting, Dan circled back to the beginning (very Tai Chi!).  We returned to the neutral posture, aligning, sinking and rooting our body weight.  Everyone reported a much cleared sense of how it felt to root.
From there, a little form practice, with a heightened sense of rooting with movement, then a break.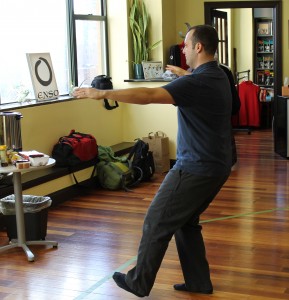 Lengthening – stretching without tension
Dan devoted most of the afternoon to lengthening, the fundamental Tai Chi concept of stretching tissue without strain or tension.
Marriage of Heaven and Earth (MHE) Qigong Move 1.  MHE is a core Qigong set in the Bruce Frantzis' Energy Arts system.  The two moves of the set provide a framework for developing several key internal practices (neigong), including opening and closing joints and body cavities, activating ligaments in the limbs and spine, and circulating Qi through specific Qi flows.  Another  central internal practice in MHE is lengthening, and Dan used Move 1 of MHE to help attendees begin to get a sense of lengthening the arms, legs, and spine.
Extending the arms by releasing, not straining.  The first part of MHE Move 1 basically involves moving the arms from the neutral posture forward in arcs until the arms are somewhere at or above the head, depending on shoulder and neck health and flexibility.  But instead of straining to stretch the arms upward, in MHE, you keep the neck and shoulders relaxed, with the shoulders and shoulder blades actually descending as the arms rise.
Through this movement, you can begin to get a sense of extending the arms by releasing tension in the shoulders, neck, and upper back.  Ultimately, the release continues through the back to the hips, legs and feet, and the arms incrementally extend or – lengthen.
For most, lengthening limbs through relaxation rather than strain is a new concept.  But for Tai Chi practitioners, it is fundamental to achieving the connection, flow, and stability that are hallmarks of Tai Chi.
Dan's use of MHE Move 1 for learning lengthening was very effective approach, and gave all attendees a new practice tool.
Bringing it home – rooting and lengthening in our forms.  To close the workshop, we went back to our solo forms, bringing in rooting and lengthening, and feeling what happened.  It sure looked to me, after a day with Dan, like people had more "Chi" in their Tai Chi!
A big thanks to Dan Kleiman and all attendees for making our Fall Workshop a fine day of learning and practice!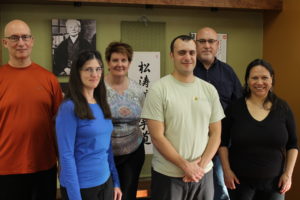 Check out the excellent Tai Chi and Qigong content available from Dan Kleiman.
Based in Boston, Dan serves as Program Director, Brookline Tai Chi, one of the largest Wu Style Tai Chi schools in the US.  Dan has studied extensively under Master Bruce Frantzis, attaining advanced Instructor Certifications in Tai Chi, Bagua, and several Qigong sets.  In addition to maintain a full teaching and program development load, Dan has collaborated on several research projects exploring how Tai Chi can improve balance and fall resistance.  Most recently, Dan worked with Don Ethan Miller to produce The Tai Chi Way to Better Balance, a DVD and book program.  To check out this product, click here Tai Chi Way to Better Balance.
Dan's website, Movement Arts with Dan Kleiman, at http://dankleiman.com/, contains loads of free audio and video content, addressing an impressive range of Tai Chi and Qigong practice issues and questions.  Dan also produces Qigong Radio, a periodic podcast where Dan interviews Internal Arts instructors and practitioners on a wide range of subjects, often sharing important practice advice and tips that would be difficult to find elsewhere.
I highly recommend Dan's website and content to all our students and friends.  I encourage you to get on Dan's email list and check out his site.
Want to learn more?
Interested in Opening the Energy Qigong?  A great start on Energy Gates is reading Bruce Frantzis's book Opening the Energy Gates of Your Body.  Energy Gates is the foundational Qigong set in our system, introducing key concepts and practices for Qigong, Tai Chi, and Bagua.  At Enso Tai Chi, we regularly practice portions of Energy Gates Qigong as a warm up for Tai Chi class.
Interested in Marriage of Heaven and Earth Qigong?  A somewhat more advanced Qigong set, MHE provides a framework for developing core internal practices.  I am certified by Bruce Frantzis to each MHE and offer private and group instruction in the set.  For more information, please email me at chris@chicagotaichi.org.
That's it for now.  Keep practicing!
Chris Cinnamon
Enso Martial Arts
Tai Chi and Qigong Instructor
Energy Arts Certified