Enso Tai Chi's Summer Session begins Monday, August 12.  Special discount on class fees!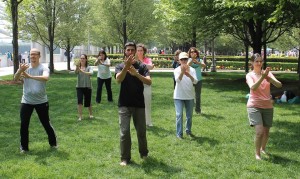 Enso Tai Chi's abbreviated Summer Session runs August 12 through September 30, and we are offering a special rate for this short session.
More than 6 weeks of Tai Chi classes for only $125.  That's more than 20% off the standard rate.  No better time than now to begin learning Tai Chi.
The sooner you start, the sooner you begin to realize the myriad benefits of Tai Chi.  For a motivating report on research into the health benefits of Tai Chi, click here.
Bonus:  Enso Tai Chi students get unlimited access to exclusive online practice videos.
We understand that learning Tai Chi takes practice.  In response to student requests, we have prepared over 20 practice videos available online for our students, and we are regularly updating the video library.  These videos provide step-by-step guidance on moves and postures, helping guide students through their practice away from class.  Password protected, access to these videos is exclusively for our students.  We provide these as an added bonus and to help you learn Tai Chi!
How to sign up?
For existing students, just email instructor Chris Cinnamon at chris@chicagotaichi.org, and he will process your Summer Session registration.
For new students, email Chris and he will help you through the process.
Hope to see you in class!
Join Enso Tai Chi on Millennium Park's Great Lawn in August!  See our website for details.  www.chicagotaichi.org