We wrap up our 12-week Spring Session this week.  Here's a quick summary of Spring Session highlights, and information about our Summer Session.
Wu Style Tai Chi Short Form
We currently have 13 students practicing the 27-move Wu Short Form.  Students range from those just starting their exploration of Tai Chi to those in their third year of practice.  All students made notable  advancement during the session.  Beginning students learned Tai Chi fundamentals and some moves and postures.  Continuing Practice students refined their form, incorporating more internal material or "neigong," including rooting, wrapping, lengthening, and gaining greater sensitivity to the Qigong in the form.
Two students completed their first trip through the entire form this session, reflecting diligent practice and a growing interest in Tai Chi.  Congratulations Jeanne Steen and Blair McCaw!

Wu Style Tai Chi Long Form
Continuing Practice Students Elizabeth Ryan and Larry Friedman have joined me in beginning to work through the 108-move Wu Long Form.  Geneva-based Energy Arts Instructor Don Myers has joined us at Enso for several Sunday sessions, guiding us to about 1/3 of the way through the Long Form so far.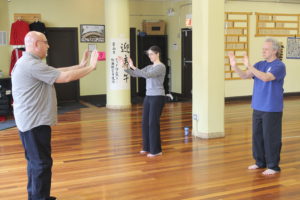 We are very much enjoying Don's instruction and our journey into the Long Form, encountering plenty of new and challenging material.  You can find out more about Don and his teaching at Silver Ox Tai Chi.
Qigong – Dragon and Tiger and Opening the Energy Gates
Due to growing interest in Qigong, Spring Session was the first session that we offered regularly scheduled Qigong classes.  The class was well received, and we will continue it next session.   Five students joined the class, four with experience in Dragon & Tiger Qigong (D&T) and one student new to the set.  All students made notable progress, and gained increasing experience in the myriad benefits of practicing D&T.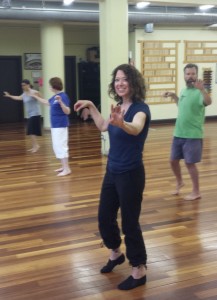 For more information on D&T , check out this blog post Enso Tai Chi May Update.  It includes a link to a free podcast featuring Master Bruce Frantzis and Energy Arts Senior Instructor Bill Ryan discussing how Bruce learned Dragon and Tiger in China, how it works, and some of powerful health benefits the set can bring.
Energy Gates Qigong.  This session Tai Chi and Qigong students also began to explore portions of Opening the Energy Gates of Your Body Qigong (E-gates).  A foundational Qigong set in the Energy Arts system, E-gates includes standing practices, a version of Cloud Hands, Three Swings, and a Taoist Spine stretch.  Our E-gates work so far has focused mostly on components of the standing practices and Cloud Hands (a student favorite).  We will continue exploring E-Gates in the Summer Session.
Tai Chi Push Hands
Our Continuing Tai Chi Practice class includes instruction in the two-person practice of Tai Chi Push Hands.  At a basic level, Push Hands helps a student learn how to take all the core material from solo form practice – relaxation, rooting, posture, weight-shifting, whole body connection, circular movement, and more – and develop a capacity to keep all that together in a more dynamic, less predictable movement pattern, all while maintaining contact with another person directly in front of you.

From a martial perspective, Push Hands serves as a bridge from solo form practice to learning how to fight with Tai Chi.  But there are lots of valuable non-martial reasons to practice push hands, including taking to a higher level all the material we work on in our solo forms.  Plus, students really enjoy it.  So more Push Hands to come next session!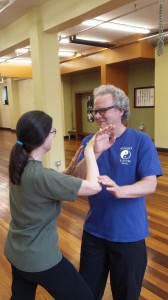 So that's the Spring Session Update.  If you are interested in Tai Chi or Qigong in the Chicago Loop, consider joining our Summer Session, beginning Aug 4.  More on that below.
We will not have regular classes during July.  I will be in Spain for a month retreat led by my main Tai Chi and Qigong teacher, Bruce Frantzis.  The training will involve three weeks of Spiraling Energy Body Qigong.  According to the retreat description, "it teaches how to dramatically raise your energy level and master the movement of qi in circles and spirals throughout your body."  Intriguing!  A week of meditation instruction follows the Qigong session.  I also plan to complete my biannual Instructor Recertifications, a requirement to maintain instructor status in the Energy Arts system.
Classes will resume Monday, Aug 4, for an abbreviated 8 week session.  One schedule change:  for the first two weeks of August, our Monday and Wednesday midday classes, both Tai Chi and Qigong, will be held at 1 – 2 pm.   This is to accomodate Enso popular Summer Karate Camp.  Back to our regular class schedule, Monday, August 18.
For students, enjoy your practice in July.  See you in August!
For those interested in Tai Chi or Qigiong at Enso, I encourage you to join a class.  You can contact me with questions at chris@chicagotaichi.org.
Chris Cinnamon
Enso Martial Arts
Tai Chi and Qigong Instructor
Energy Arts Certified