Greetings from our last days in Spain!
I have wrapped up an amazing four weeks of training, joining 100+ other instructors and practitioners from 20 countries for 3 weeks of advanced Qigong plus a week of Taoist Meditation, all led by Lineage Holder Bruce Frantzis.  For a report on the first two weeks, check out From Chicago to Spain for a deep dive into Qigong.
I return to Chicago this week, and our Summer Session begins on Monday, August 4.  Some new students are signing up for Summer Session, and we look forward to welcoming them as they join us in improving our lives with Tai Chi and Qigong!  Information about the Summer Schedule follows.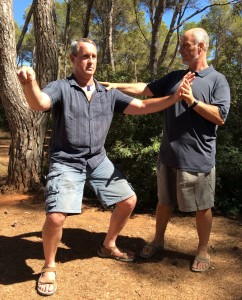 Summer Session Class Schedule
Please note:  During the first week of the Session, all Monday and Wednesday midday classes will be at 1 – 2 pm.  This is to accommodate Enso's popular Youth Karate Camp.  The following week we are back to our regular schedule.
Mondays
7 am – 8 am Continuing Tai Chi Practice
11 am – noon Beginning Tai Chi (Note:  Meets at 1 – 2 pm Aug 4)
Noon – 1 pm Beginning Tai Chi (Note:  Meets at 1 – 2 pm Aug 4)
Wednesdays
7 am – 8 am Continuing Tai Chi Practice
11 am – noon Qigong (Note:  Meets at 1 – 2 pm Aug 6)
Noon – 1 pm Beginning Tai Chi (Note:  Meets at 1 – 2 pm Aug 6)
Thursdays
5:30 – 6:30 pm Tai Chi – all levels
Extra/make up  classes:
Occasionally, we need to adjust the class schedule, and students will be notified in advance of any changes.  If a class is cancelled, we will schedule make up classes whenever possible.  We periodically schedule extra classes (Sunday mornings are popular) to provide for additional practice.
Registration and Payment
We are offering the Summer Session at a special rate of $75.  That entitles beginning students to attend any or all beginning classes.
We will handle registration and payment during the first class of the session.  You can pay by check, credit card, or cash.

Location
Enso is located at 412 S. Wells, 7th floor, just south of the corner of Wells and Van Buren.  The LaSalle/Van Buren L stop is two blocks away.
What to wear (and not wear)
Wear comfortable clothing allowing full range of movement.  (In summer, I like to practice in shorts and a T-shirt.)  Enso has changing rooms if you want to change there.
We do not wear shoes on the training floor.  You can practice in bare feet (my first choice), socks, or indoor slippers. If you have special footwear needs, just let me know.
Please refrain from wearing perfumes or other strong scents.  Some people have sensitivities that can result in unpleasant reactions.
What to expect in class
A core principle of Tai Chi and Qigong is to relax the body at ever deeper levels.  For most people, that occurs more readily in an environment that is comfortable, supportive, enjoyable, and … relaxed!  I endeavor to foster that environment in our classes.  Introductory material will include: (i) basic biomechanical alignments; (ii) techniques to help perceive and release tension; (iii) learning to move in a more connected, whole body manner, and (iv) initial moves of a Tai Chi form or Qigong set.  My aim is to provide students authentic Tai Chi and Qigong material that they can begin practicing on their own, which, with consistent practice, can result in myriad health benefits and improve your life!
Email updates, Facebook, Twitter
If you would like to be on our email update list, please sign up on our homepage.  We periodically provide email updates on our classes, other events, Tai Chi and Qigong items of interest, and special offers.  No obligation and you can unsubscribe at any time.
We are on Facebook at Enso Tai Chi and Twitter at @chicagotaichi.  If you are into those social media, please like, follow, and share our posts.  It helps.
Hope to see you in class!
Chris Cinnamon
Enso Martial Arts
Tai Chi and Qigong Instructor
Energy Arts Certified