Plenty going on during Enso Tai Chi's 8-week Summer Session!  We have an engaged group of over 20 students, learning, having some fun, and improving their lives with Tai Chi and Qigong.  There's still room in our classes, so if you want to begin improving your life with Tai Chi and Qigong, come join us!
Here's a quick update on our Summer Session.
Corporate Wellness Programs
We are continuing our exploration of how to best deliver the benefits of Tai Chi and Qigong to organizations and companies.   This Session we have been joined by a wonderful group of beginning students from Friends of Chicago River, a great organization dedicated to improving the health of the Chicago River.  The group is trying Tai Chi class as part of an organization wellness initiative.  What a great idea!
To help encourage this and similar efforts, we offer special group rates for organizations and companies.  If interested, please contact me at chris@chicagotaichi.org
This month I am also offering two trial classes at the Big Red Athletic Club at the CNA Heaquarters.  BRAC is the in-house CNA health club with over 700 members, managed by HealthFitness.  The trial classes may lead to a regular Tai Chi class at this corporate facility.   Helping employees learn how to improve their lives with Tai Chi sure seems like a smart idea to me!
Tai Chi Circling Hands
All beginning students are learning the set Tai Chi Circling Hands.  A set of seven movements, Circling Hands incorporates several key principles of Tai Chi movement – alignments, circularity, whole body connection, release of tension.  Most beginners find the movements easy to learn and can begin to realize the benefits of practicing Tai Chi movements in short order.  The set is an excellent practice by itself, and for those interested in learning a Tai Chi form, Circling Hands provides a solid foundation.
Check out what Master Bruce Frantzis has to say about the benefits of the set:
Interested?  Come to Enso and learn Tai Chi Circling Hands.
Wu Style Tai Chi Short Form
Our Tai Chi students continue to learn and practice the 27-move Wu Short Form.  Students range from those just starting their exploration of Tai Chi to those in their third year of practice.  Beginning students are learning Tai Chi fundamentals and progressing through the moves and postures of the form.  Continuing Practice students are refining their forms, incorporating more internal material or "neigong," with special Summer emphasis on rooting and lengthening.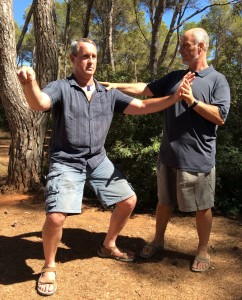 Wu Style Tai Chi Long Form
Continuing Practice Students Elizabeth Ryan, Larry Friedman, and I are continuing our journey through the 108-move Wu Long Form.  Geneva-based Energy Arts Instructor Don Myers has joined us at Enso for several Sunday sessions, and we are now approaching the challenging kick sequence about 1/2 into the form.
We are very much enjoying Don's instruction.  You can find out more about Don and his teaching at Silver Ox Tai Chi.
Qigong – Dragon and Tiger and Opening the Energy Gates
We continue the Wednesday Qigong class that we launched in the Spring.  Interest in Qigong continues to grow, with new students joining the class.  After loosening up with some Circling Hands, Qigong students learn and practice Dragon & Tiger Qigong and portions of Opening the Energy Gates Qigong.
For more information on D&T , check out this blog post Enso Tai Chi May Update.  It includes a link to a free podcast featuring Master Bruce Frantzis and Energy Arts Senior Instructor Bill Ryan discussing how Bruce learned Dragon and Tiger in China, how it works, and some of powerful health benefits the set can bring.
Tai Chi Push Hands
Our Continuing Tai Chi Practice class includes instruction in the two-person practice of Tai Chi Push Hands.  At a basic level, Push Hands helps a student learn how to take all the core material from solo form practice and develop a capacity to keep all that together in a more dynamic, less predictable movement pattern, all while maintaining contact with another person directly in front of you.
From a martial perspective, Push Hands serves as a bridge from solo form practice to learning how to fight with Tai Chi.  But there are lots of valuable non-martial reasons to practice push hands, including taking to a higher level all the material we work on in our solo forms.  Plus, students really enjoy it.
We are planning a Tai Chi Push Hands Workshop at Enso on Saturday, October 11.  More information to come soon.
So that's the Summer Session Update.  If you are interested in Tai Chi or Qigong in the Chicago Loop,  I encourage you to join a class.  You can contact me with questions at chris@chicagotaichi.org.
Chris Cinnamon
Enso Martial Arts
Tai Chi and Qigong Instructor
Energy Arts Certified