I know first hand that knee pain is no fun. I spent years with chronic pain in both knees.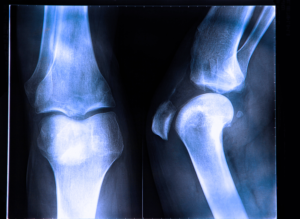 Knee pain = NO FUN
My experience with knee pain.
Beginning about 15 years ago, I began to experience chronic pain in both knees. My knees would hurt going up stairs.  Going down stairs hurt even more. It hurt to sit at a desk. It hurt to get out of a chair. It hurt to get in and out of a car. It hurt to drive for extended periods. A whole range of everyday activities became increasingly painful and difficult. I took lots of Ibuprofen.
MRIs showed developing osteoarthritis (OA) in both knees. I became worried about more pain and decreased function. I did not like that picture!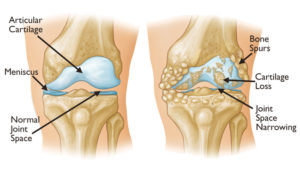 Healthy knee v. knee with advanced OA
Today: Virtually pain free knees
Today, I have a different experience. My knees feel strong, springy, well-lubricated. I can take steps two at a time, up and down. I bike, walk, sit, rise, squat, all with far less discomfort than before. I can't remember the last time I took Ibuprofen for sore knees.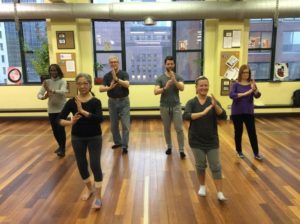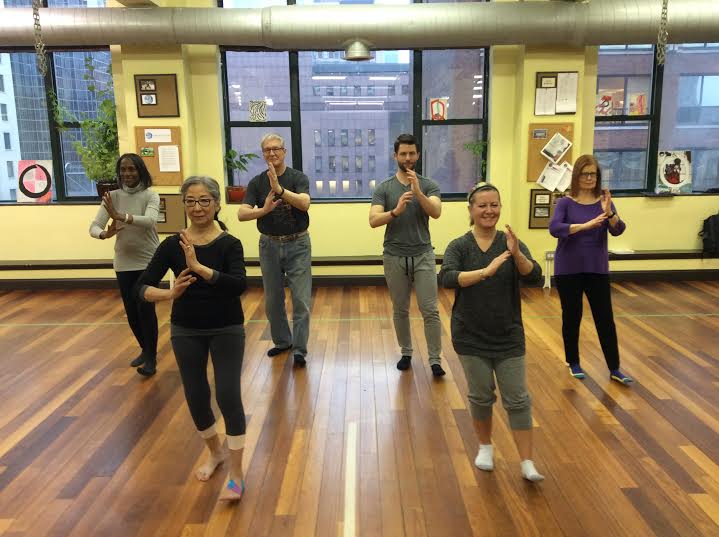 Tai Chi helped my knees!
What happened? A few important changes in my case. First, I do lots of Tai Chi. I know that Tai Chi has made my knees stronger, healthier and far less painful. Second, I take better care of my knees, avoiding high impact workouts that tend to pound the inside of the knee. Third, I watch my weight, diet, and hydration.
Special workshop – Tai Chi for Knee Health. Coming soon!
That's why I have developed a special program, Tai Chi for Knee Health. I will be offering a Tai Chi for Knee Health Workshop in Chicago on Saturday, Sept. 3. More about that soon.
Medical research shows – Tai Chi works for knee pain!
For knee pain sufferers, here is really important information: Multiple studies report that Tai Chi significantly reduces pain and improves function in knee OA patients.
For those of us looking for relief with less medicine, fewer doctor visits, and without surgery, that's a big deal.
Among the studies referenced above, subjects began reporting significant reductions in pain in as little as 6 weeks. And, importantly, for the subjects that continued to practice Tai Chi, the relief continued.
That leads us to our Top Five Reasons to Practice Tai Chi for knee health.
Top 5 Reason to Practice Tai Chi for Knee Health
1. Research shows Tai Chi improves knee pain and function. A growing body of scientific research shows that Tai Chi improves pain and function in people with knee osteoarthritis.
2. Tai Chi provides a low impact yet powerful whole body workout. One part of the vicious cycle of knee pain is that pain leads to reduced activity and less exercise, leading to deconditioning. This can result in further deterioration of joint structures and more pain. Tai Chi is an antidote, offering a low impact workout that can make legs stronger, improve balance and flexibility, and get you moving again. Plus it's fun to do!
3. Tai Chi requires no special equipment and can be done anywhere. Unlike a trip to a gym or physical therapy clinic, Tai Chi can be practiced anywhere – at home, the workplace, the park, the beach.  No special equipment required! This removes common barriers to exercise, making it easier to get in the habit of regular Tai Chi practice.
4. Tai Chi practice can be pain free. A fundamental principal of Tai Chi practice for healing is this: Tai Chi movements should not cause pain. Unlike so much Western Exercise, in Tai Chi, you do not "push through the pain." In Tai Chi, we adjust our movements so that they do not cause pain. The movements then can promote relaxation, improved circulation, and healing.
5. Tai Chi will help a lot more than your knees! The body of medical research into the benefits of Tai Chi continues to grow. So by practicing Tai Chi to help your knees, you may also experience other benefits, including:
Improved balance

Improved leg strength

Improved fall resistance

Improved immune system function

Increased bone density in the legs

Improved mood

Improved sleep quality
And more!
Tai Chi for Knee Health Workshop
On Saturday, Sept. 3, I will be leading a 1/2 day Tai Chi for Knee Health Workshop in Chicago. This workshop will feature detailed, personalized instruction on how to use Tai Chi movements and principless to promote knee health. Space will be limited.
I will share more with you about the workshop in very soon.
If you want to learn more about our research into Tai Chi for Knee Health, be sure to check out this video: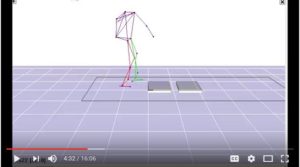 Thanks!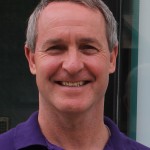 Chris Cinnamon
Head Instructor
visit our website www.chicagotaichi.org
P.S. We aim to improve the knee health of all our students. To that end, we intend to fill each of the limited seats in the Sep. 3, Tai Chi for Knee Health Workshop, and will be offering a special price for early sign-ups. More to follow soon.