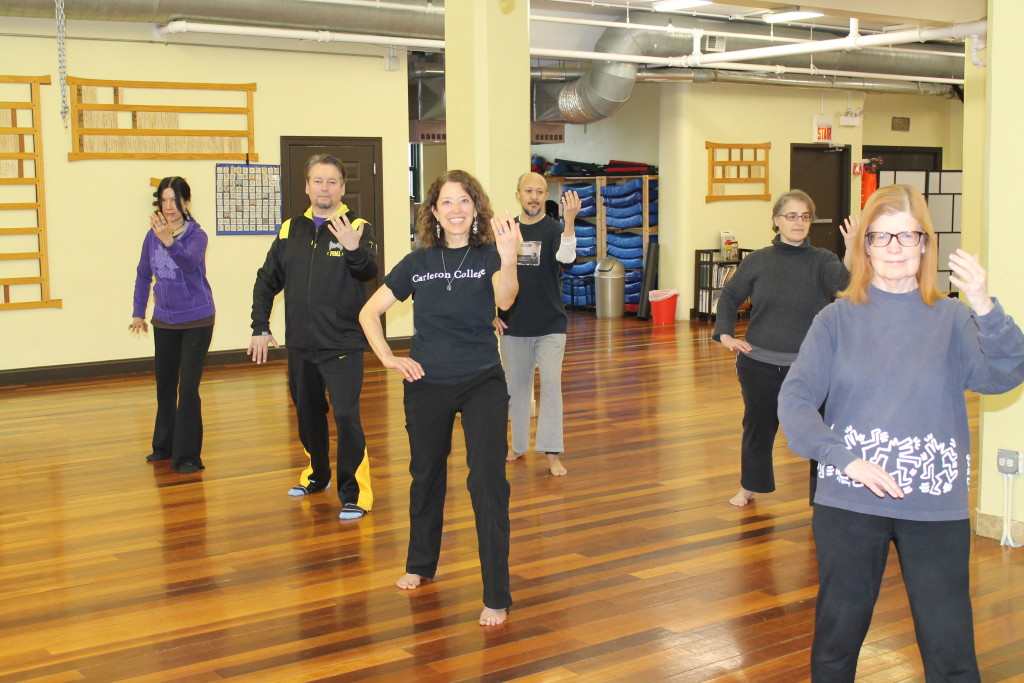 What is Tai Chi?
Considered as physical exercise,  Tai Chi is a sophisticated system of movement designed to work virtually all the tissues of the body – muscles, connective tissue, nervous system, circulatory system, lymphatic system, and more.  Tai Chi practice can increase flexibility, strength, balance, and energy, while improving circulation, and calming stressed out nerves.  Those benefits alone make Tai Chi an ideal exercise, whether as a primary practice or a supplement to other exercise programs.  Equally important, Tai Chi is a lot of fun to do!
But Tai Chi is much more than physical exercise.  Developed over centuries in China, Tai Chi includes sophisticated QiGong (Qi or Chi = energy; Gong = practice), Tai Chi is a powerful martial art system, and, at a very high level, can be practiced as a form of moving meditation.
Tai Chi at Chicago Tai Chi
Our Tai Chi classes focus first on the physical movements of our Tai Chi form. As students progress, they learn to refine the physical movement, then begin to incorporate internal practices ("Neigong"). As students learn and practice the powerful yet low-impact movements of the Tai Chi form, they begin to feel their bodies in new ways, relaxing at ever deeper levels, beginning to open up frozen or stuck areas of their bodies.  From this foundation, most students begin to perceive palpable benefits of Tai Chi practice.
Our classes are informal, interactive, cooperative, with an emphasis on students learning Tai Chi at their own pace in a safe, supportive instructional environment.
Style, Form, and Continuing Practice

Our Tai Chi classes focus on the Wu Style Short Form. Wu Style Tai Chi is one of the three main traditional branches of Tai Chi (Chen, Yang, and Wu). The Wu style is distinguished by shorter, more upright stances, smaller movements, and more emphasis on working the body internally. The shorter stances and smaller external movements of the Wu Style are especially beneficial for those with joint degeneration or injuries.
The Wu Short Form is a series of 27 movements, taking about 5 minutes to perform at a medium pace. To help introduce Tai Chi to time-pressed Westerners, Wu Style Master and lineage holder Bruce Frantzis, developed the Short Form.  You can read more about Bruce Frantzis here.
After learning the form at a beginning level, students continue to refine their form, learning how to work the movements and their benefits deeper into the body.  Continuing students also begin to learn the Tai Chi practice known as "Pushing Hands," a cooperative two-person exercise that can serve as a bridge to Tai Chi as a martial art.
Tips for Beginning Tai Chi
Watch this interview of seasoned Tai Chi instructors Bill Ryan and Dan Kleiman sharing their tips on how to start a Tai Chi practice.