What a beautiful morning for the last Millennium Park Tai Chi session of the season!  We enjoyed a perfect morning last Saturday for Enso Tai Chi's final Millennium Park session.  Over 40 people joined us on the Great Lawn.  We covered all of the seven circles of Tai Chi Circling Hands, then some Wu Style Tai Chi.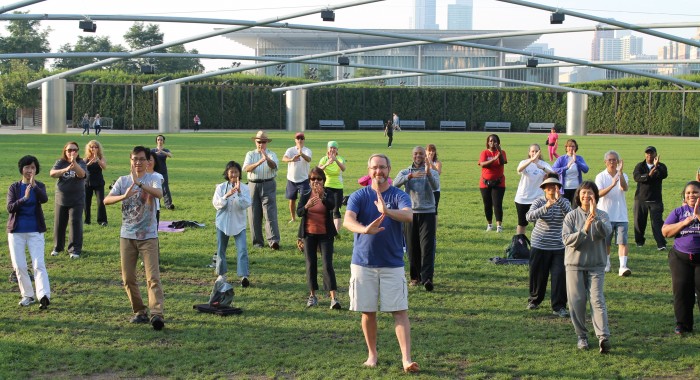 Tai Chi Circling Hands is a great set to practice.   The low impact, yet powerful moves of Tai Chi Circling Hands provide a great way to begin to gain the benefits of Tai Chi.  The movements combine core Tai Chi principles but are easier to learn than most Tai Chi sets.  The seven circles work virtually all the tissues of the body, improving circulation, flexibility, and more.
As I taught the set in Millennium Park, I could see how everyone's movements improved, becoming smoother, more fluid, more relaxed.  And that's just the beginning.
I encourage you practice this set regularly and discover how it will improve your life.  Hope to see you in class at Enso too!  You can learn Tai Chi Circling Hands in more depth and a lot more.
As promised, a free Practice Video.  To help with your practice, here's a short practice video.    It reviews what we practiced in the Park, providing a short set for you to follow, plus a few tips to help your practice.  You can click the image below to play the video.  The video will remain available on this blog and on YouTube so you can refer to it whenever you like.
Millennium Park Practice Video #4

Thanks again for joining me in the Park!  Hope to see you in class!
Chris Cinnamon
Enso Martial Arts
Tai Chi and Qigong Instructor
Energy Arts Certified