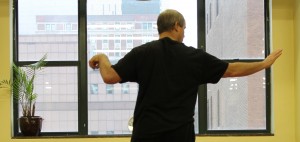 What is QiGong?
QiGong translates to "Energy Practice."  There are hundreds of types of QiGong practices – forms and standing postures, seated QiGong practices, and interactive QiGong practices.  Whatever the form of practice, a primary focus of QiGong is to increase the perception of the body's Qi or energy,  improve the circulation of Qi, and gain a measure of control over that circulation.
QiGong forms typically involve low-impact movements designed to improve circulation of fluids (blood, synovial fluid, lymph, interstitial fluid) open energy gates and channels, release stagnant energy, and improve the circulation of Qi.  In Traditional Chinese Medicine theory,smooth and balanced circulation Qi is a foundation of a healthy body.  To read more about QiQong, read "What is Qigong?" by Bruce Frantzis.
QiGong at Enso
We offer instruction in several Qigong sets, starting with Dragon & Tiger Medical QiGong (D&T).  D&T consists of seven relatively simple movements designed to improve circulation, balance, and help practitioners gain a direct connection to their Qi.  D&T was introduced to the West by our main teacher, Master Bruce Frantzis.  Here is what he says about the set:
"While studying for 10 years in China and as a Chinese qigong tui na practitioner, I saw hundreds of different qigong sets. However, none had the simplicity and effectiveness of Dragon and Tiger Medical Qigong.
"While I was in China I looked for a qigong set that would have three qualities:
Clear out energy blockages and energetically cleanse the entire body.
Be easy enough to be practiced and learned by virtually anyone, regardless of their age or current state of health.
Contain as few movements as possible but have at least 80% of the benefits of longer qigong sets

"Dragon and Tiger Medical Qigong was the answer!
"It is my personal opinion that Dragon and Tiger Qigong is one of the most beneficial qigong sets ever developed in China.  It is fun to practice and many people begin to FEEL energy or chi moving in their body."
– Bruce Frantzis
If you are interested in learning more about working with your Qi or internal energy, D&T is a great place to start.
We also offer instruction in the following Qigong sets:
Tai Chi Circling Hands Qigong

Opening the Energy Gates Qigong

Marriage of Heaven & Earth Qigong

Gods Playing in the Clouds Qigong

Wellness Qigong
For more information, please contact us at info@chicagotaichi.org.